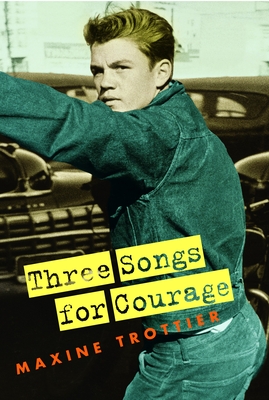 Three Songs for Courage (Paperback)
Tundra Books (NY), 9780887768316, 324pp.
Publication Date: August 12, 2008
* Individual store prices may vary.
or
Not Currently Available for Direct Purchase
Description
In this powerful novel for mature readers, Maxine Trottier transports the reader to the summer of 1956, and the small town of Erie View, a haven for teenagers. Summer jobs are plentiful, and there's always action on the beach or the main drag. Life is cool. But Erie View is a town of shifting layers. They drift by turns, scarcely touching, then jarring painfully: fathers and grandfathers try to adjust to quiet lives after an eternity of action overseas, women struggle to remake marriages and return to their kitchens, and teenagers with far too much freedom live the secret lives of youth.
This is sixteen-year-old Gordon Westley's world. But it's about to change once tragedy strikes his family and forces Gordon to explore the darkest, as well as the sweetest, side of human emotions.
Part mystery, part love story, acclaimed author Maxine Trottier weaves a spellbinding portrait of small-town Ontario dealing with its loss of innocence and coming of age in a changed world.
"From the Hardcover edition.
About the Author
Maxine Trottier is a prolific writer of children s picture books and historical fiction. Her Metis roots reach back to Fort Detroit in the mid-18th century. She was born in Michigan, then moved to Windsor in Canada. Maxine spent thirty-one years in classrooms guiding children towards literacy, and since then has written many books and won numerous awards. Maxine Trottier is the author of numerous acclaimed children s books including "The Tiny Kite of Eddie Wing" (1996 CLA Book of the Year for Children) and "Claire s Gift" which won the 2000 Mr. Christie s Book Award. She has even had a day named in her honor: Maxine Trottier Day was declared on May 25, by the Michigan State Legislature to honor her work as a writer and educator. Maxine lives with her husband on the shores of Lake Erie. "From the Hardcover edition.""
Praise For Three Songs for Courage…
"…by far [Trottier's] best writing to date…"
—The Toronto Star

Praise for Sister to the Wolf:
"…engaging…. In addition to providing a rich historical background and vividly re-creating the sense of wilderness, Trottier has drawn her characters and their relationships in a fully satisfying manner. There is plenty of action and a sweet romance in the mix as well."
—School Library Journal
Advertisement