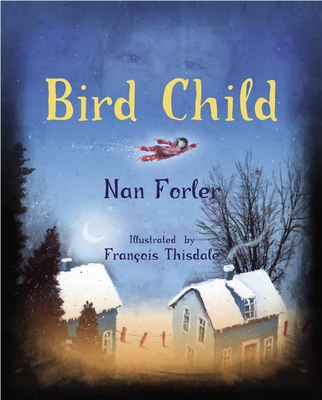 Bird Child (Hardcover)
Tundra Books (NY), 9780887768941, 32pp.
Publication Date: August 11, 2009
Description
Bullying and the ability to rise above it are at the heart of this strikingly beautiful picture book. All school-aged children have either bullied, been bullied, or witnessed bullying, and all too often, they feel powerless to stop what has been set in motion.
Such is not the case with Eliza. Her mother has given her wings to fly and the ability to see all the possibilities that lie before her. So, when bullies pick on the new student, Lainey, gradually robbing her of her smile and ability to paint beautiful pictures, Eliza wants to help, and she does, by finding a way to show Lainey all that she can be. Then in the schoolyard, Eliza stands up to the bullies. One by one, the other children add their voices, and soon the bullies have skulked away.
Lyrical and eloquent yet realistic and down to earth, Nan Forler's text is complemented beautifully with Francois Thisdale's haunting images. This is a book for every child, every classroom, and every library.
About the Author
Born in Elmira, Ontario, Nan Forler has degrees in both music and education, and she has taught junior kindergarten through to grade eight for over twenty years. She has studied music in Vienna and Italy, traveled through England, Ireland, Scotland, and Wales, and driven coast-to-coast through North America. As a mother and teacher, she encourages her students and her own children to speak out against injustice, both in the schoolyard and in the global community and this is reflected in her first book, Bird Child. She lives in Waterloo, Ontario.

For nearly twenty years, Francois Thisdale has worked as an award-winning freelance illustrator, creating images for children s books, news magazines, corporate reports and book covers for North American and European clients. His multi-textured images are the product of a unique blend of traditional drawing and painting techniques with digital imagery. He is also a musician who has composed soundtracks for short films and art exhibits. Francois Thisdale lives in Quebec."
Praise For Bird Child…
"Magical and ethereal do not typically describe tales of bullying, but this lyrical combination of realism and fantasy defies expectation. … This is a beautiful book with a somber tone, buoyed by Eliza and Lainey's triumph in imagining possibilities. They do not fight the bully, but defy him by becoming friends."
— School Library Journal

"… As a thematic book dealing with the issue of bullying, this story excels. It is not preachy or didactic.... Word choices approach the finely tuned standard of poetry…. Highly recommended."
— Excellent, Resource Links

"Forler's first published work is lyrically written and conveys an astute awareness of children and bullying. Thisdale's eerie images … are perfectly suited to the text's magic realism and are sure to draw young readers into the story. A thoughtful choice for one-on-one sharing…" 
— Booklist

"François Thisdale's illustrations are feast of pure visual delight…. Bird Child stirs the soul, is a joy to experience, and presents a bold hopeful ray of light to children experiencing bullying."
— Highly Recommended, CM Magazine
Advertisement