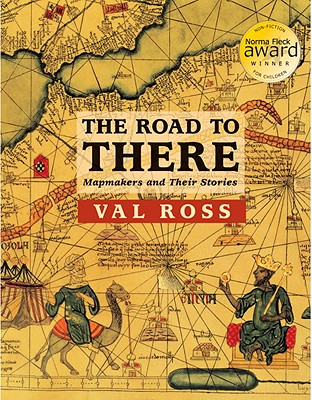 The Road to There: Mapmakers and Their Stories (Paperback)
Mapmakers and Their Stories
Tundra Books (NY), 9780887769337, 152pp.
Publication Date: September 8, 2009
Description
Winner of the 2004 Norma Fleck Award for Canadian children's non-fiction
Honor Book for the Society of School Librarians International's Best Book Award Social Studies, Grades 7-12
Shortlisted for the Children's Literature Roundtable Information Book of the Year
2003 winner of the Mr. Christie's Book Award Seal
Shortlisted for the 2004 Norma Fleck Award for Canadian Children's Non-fiction
Included on "VOYA"'s ninth annual Nonfiction Honor List
Selected for inclusion in "CCBC Choices 2004: " "the best-of-the-year" list published by the Cooperative Children's Book center of the School of Education at the University of Wisconsin-Madison
Named Notable Book by the International Reading Association's Children's Book Award in the intermediate nonfiction category
Road maps; sailor's charts; quilts; songlines; gilded parchment covered with jewel-like colors; computer printouts to guide us through the strange, vast, beautiful, and mysterious frontiers of the world of maps, Val Ross presents the men and women who made them.
Here are some of the unexpected stories of history's great mapmakers: the fraud artists who deliberately distorted maps for political gain, Captain Cook, the slaves on the run who found their way thanks to specially-pieced quilts, the woman who mapped London's streets, princes, doctors, and warriors. These are the people who helped us chart our way in the world, under the sea, and on to the stars.
With reproductions of some of the most important maps in history, this extraordinary book, packed with information, is as fascinating and suspenseful as a novel.
"From the Hardcover edition.
About the Author
Val Ross was a renowned journalist and won a National Newspaper Award. She was highly respected throughout the publishing industry for her coverage of books and the people who create them. She was an arts reporter at "The Globe and Mail" and her first book, The Road to There: Mapmakers and Their Stories was nominated for many awards and won the Norma Fleck Award for Canadian Children s non-fiction. Val Ross passed away in 2008.

"From the Hardcover edition.""
Praise For The Road to There: Mapmakers and Their Stories…
"Filled with details and insights and written with a storyteller's touch, this book will simultaneously inform and fascinate readers."
–School Library Journal [starred review]

"Ross covers plenty of historical ground in this wide-ranging discussion of maps and mapmakers…. An eclectic presentation…fascinating to young people…"
–Booklist

"In 13 chapters (or stories), Ross charts a route, notable for its verve, vitality and scholarship, from There to Here…. Among Ross's many attributes as a writer is her ability to place her readers inside the story, to envelop them with telling fragments and delectable details…. [N]ew worlds will be sensed if not seen by her readers as they travel with her from There to Here."
–The Globe and Mail

"…fascinating…. [C]ombines extensive research with crisp prose and engaging narratives… [A]n excellent resource for research…. The rich graphics make an impressive-looking volume that's very 'grown up' and stylish. This aesthetic, along with the well-written, compelling narrative, contributes to the book's crossover potential…"
–Quill & Quire

"The Road to There will be a valuable addition to any school library collection. Teachers as well as students will benefit by reading its chapters. Highly Recommended"
–CM Magazine

"The book is a fun, exciting and adventurous way to learn about maps. It will teach you about the attributes of maps and its makers, while keeping the thrill of a novel still intact."
–Brand New Planet reviewed by Patrick Brown, age 11

"[A] lively, engaging narrative…[with] inviting, conversational prose…. Ross's book is a treasure trove of fascinating maps and stories."
–Cooperative Children's Book Center, University of Wisconsin

"…informed and informative…. Black-and-white and color photographs nicely embellish this absorbing and highly recommended anthology…"
–Children's Bookwatch

"This book held my interest from first page to last; Isaac Asimov could not have done a better job on this intrinsically fascinating subject. There are answers here to questions I've wondered about all my life, and stories I'll remember as long as I live. Ross has John McPhee's clean spare style, and his knack of involving you totally in things you thought you already knew something about. I happened to read this the day after seeing an hour-long Ken Burns documentary about Lewis and Clark, and Ross made their story far more interesting to me in a single chapter."
–Spider Robinson

"[The Road to There] is so well written, interesting and informative. Maps tell interesting stories; some tell the "truth" some are fraudulent, some are pure propaganda and full of lies (British maps of Canada just before the conquest), others are fanciful guess work, wishful thinking and much more. Thanks for bringing some of [your insight] to that part of the public where you can make an impact."
–Conrad Heidenreich, Professor Emeritus, Geography, York University
Advertisement