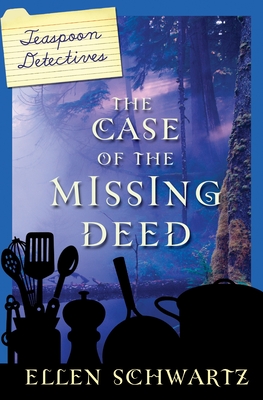 The Case of the Missing Deed (Teaspoon Detectives #1)
Hardcover

* Individual store prices may vary.
Description
Take a dash of colorful characters, a pinch of danger, and generous scoops of adventure and you have a terrific culinary mystery for young readers.

Five cousins are looking forward to their annual vacation at their grandmother's cottage. None of them knows that this may be their last such summer. A mining company has set its sights on the land and is determined to seize it. Grandma must produce the deed to prove that the property is really hers, but her memory is not what it used to be, and she can't find it. The children suspect there may be clues to the deed's whereabouts somewhere in the family's cherished trove of recipes. But can they solve the mystery in time?

Adult mystery buffs have had many culinary mysteries to choose from. Ellen Schwartz introduces her young readers to a delicious genre. She even provides easy-to-follow and yummy to eat recipes.
Praise For The Case of the Missing Deed (Teaspoon Detectives #1)…
"…The Case of the Missing Deed is fast-paced, and full of cryptic clues, secret codes, and red herrings…. Schwartz beautifully captures the agony, ecstasy, and exquisite self-centredness of a 13-year-old girl on a family vacation…. The Case of the Missing Deed is a great summer read for kids who love a good, meaty mystery as much as they love a delicious homemade dessert."
—Quill & Quire

"For pre-teens who enjoy decoding secret messages while solving a mystery and doing some cooking on the side, The Case of the Missing Deed… fits all requirements."
–The Winnipeg Free Press

"A treasure hunt, a family get-together, a beloved cottage threatened by an evil mining consortium –The Case of the Missing Deed has them all! … Schwartz has found a real recipe for success in this series."
—Highly Recommended, CM Magazine

 "A delightful mystery for children ten and up… Schwartz mixes tricky codes, ciphers with facts and interesting characters… The theme of environmental protection is well explained and the clues to the mystery are ingeniously sprinkled throughout a packet of recipes… Good dialogue, well-differentiated characters and a wholesome setting complete this old-fashioned mystery."
— John Spray Mystery Award, Jury Comments
Tundra Books, 9780887769597, 200pp.
Publication Date: September 13, 2011
About the Author
Ellen Schwartz was born in Washington, D.C. and grew up in New Jersey. She moved to Canada in 1972. She has written several books for children, including Avalanche Dance and Stealing Home. Ellen Schwartz and her husband, Bill, live in Burnaby, BC, and have two grown daughters - one of whom is a professional chef.
or
Not Currently Available for Direct Purchase