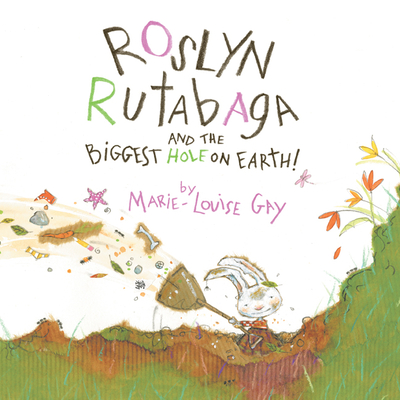 Roslyn Rutabaga and the Biggest Hole on Earth! (Hardcover)
Groundwood Books, 9780888999948, 32pp.
Publication Date: July 29, 2010
Description
Roslyn Rutabaga is a feisty little rabbit with a vivid imagination. One day she wakes up with a big plan: "I will dig the biggest hole on earth. Not a tiny mouse hole. Not a medium-sized rabbit hole. The Biggest Hole on Earth " With her father's quiet encouragement, Roslyn sets out on her big adventure, but obstacles abound a grumpy worm, a grouchy mole, and a bone-hogging dog get in her way. Will she find a pirate's treasure or a dinosaur bone? Will she meet a penguin? Anything could happen Marie-Louise Gay's humorous and endearing tale is an ode to the imagination and determination of children who create their own worlds out of the little things in life.
Advertisement