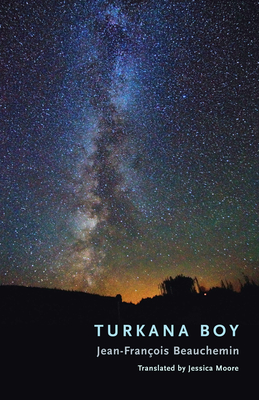 Turkana Boy (Paperback)
Talonbooks, 9780889226906, 144pp.
Publication Date: May 15, 2012
* Individual store prices may vary.
Description
In this contemplative novel-poem, Jean-Francois Beauchemin invites us to share in the inner world of the grieving Mr. Bartolome, who, following the mysterious disappearance of his young son, wanders and wonders, seeking to transcend his pain by encountering something larger than himself. Continuously occupied by the memory of his lost son, Bartolome's quest leads him from the city to the countryside and then to the edge of the ocean, where he marvels at the beauty of nature but cannot penetrate its mysteries. Through reference to the two-million-year-old "Turkana Boy," the fossilized remains of a boy found in 1984 near Lake Turkana, Kenya, Beauchemin addresses processes of memory and the long history of human evolution. Beauchemin's character Bartolome sees in the lives of the boys--separated by nearly two million years--a kind of twin destiny. Has the passage of millennia changed the intensity of human feeling at the loss of blood relations? "Who knows what they had felt? Had the same emotions, those associated with incommensurable loss, broken their bodies, as they had his? Over and above morphological differences sculpted by the passage of millennia, was there something resembling a permanence of feeling, a sort of eternity for the murmuring of the heart, transmitted through the ages by the bonds of blood?" Turkana Boy offers a poignant examination of grieving and one man's search for understanding. This surrealist narrative is punctuated with magnificent musings on the world and startling questions about what it means to be alive.

About the Author
Jean-Francois Beauchemin has been called "one of the best-kept secrets" of Quebecois literature. He is the recipient of the 2005 Prix France-Quebec/Jean Hamelin for Le jour des corneilles and the 2007 Prix des libraires for La fabrication de l'aube. Most recently, Beauchemin wrote a trilogy of semi-autobiographical books exploring "the tragic beauty of the world," which, like Turkana Boy, explore grief, wonder, and the nature of the soul. Le Jour des Corneilles is presently being adapted as an animated film. He lives in Sainte-Anne-des-Lacs, Quebec, and writes works of fiction, autobiography, and poetry--none of which has previously been translated. Jessica Moore is an author and translator. Her first poetry collection, Everything, Now, part lyric, part memoir, is forthcoming in 2012 with Brick Books. She is a former Lannan writer-in-residence and winner of a 2008 PEN America Translation Award for her translation of a selection from Turkana Boy. Her poems and translation have appeared in ARC, CV2, The Antigonish Review, Cenizo and The Literary Review. Jessica is currently working on a new collection of poems, and trying her hand at short stories. She is a member of the LTAC (Literary Translators' Association of Canada) where she worked as the receptionist while completing her Master's Thesis in Translation Studies. She plays the banjo in her band, Charms, whose self-titled album was launched in 2010 in Toronto.
or
Not Currently Available for Direct Purchase