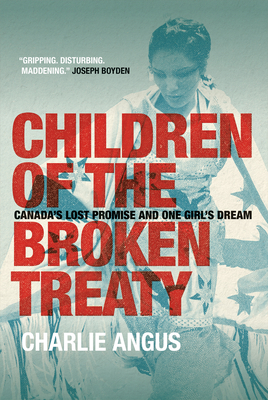 Children of the Broken Treaty (Paperback)
Canada's Lost Promise and One Girl's Dream
University of Regina Press, 9780889774018, 342pp.
Publication Date: August 22, 2015
* Individual store prices may vary.
Description
Children of the Broken Treaty exposes a system of apartheid in Canada that led to the largest youth-driven human rights movement in the country's history. The movement was inspired by Shannen Koostachin, a young Cree woman whom George Stroumboulopoulos named as one of "five teenage girls who kicked ass in history." All Shannen wanted was a decent education. She found an ally in Charlie Angus, who had no idea she was going to change his life and inspire others to change the country. Based on extensive documentation assembled from Freedom of Information requests, Angus establishes a dark, unbroken line that extends from the policies of John A. Macdonald to the government of today. He provides chilling insight into how Canada--through breaches of treaties, broken promises, and callous neglect--deliberately denied First Nations children their basic human rights.
About the Author
Charlie Angus is an elected Member of Parliament for Timmins-James Bay. The author of six books, including "Unlikely Radicals, " he is also the front man of the band Grievous Angels.
or
Not Currently Available for Direct Purchase