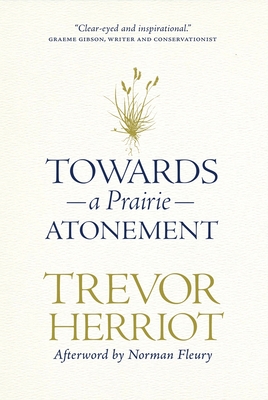 Towards a Prairie Atonement (Regina Collection #5) (Hardcover)
University of Regina Press, 9780889774544, 110pp.
Publication Date: November 5, 2016
* Individual store prices may vary.
Description
Towards a Prairie Atonement addresses the question of our relationship with the land by enlisting the help of a Metis Elder and revisiting the history of one corner of the Great Plains.
This book's lyrical blend of personal narrative, prairie history, imagery, and argument begins with the cause of protecting native grasslands on community pastures. As the narrative unfolds, however, Trevor Herriot, the award-winning author of
Grass, Sky, Song
and
River in a Dry Land
, finds himself recruited into the work of reconciliation. Facing his own responsibility as a descendent of settlers, he connects today's ecological disarray to the legacy of Metis dispossession and the loss of their community lands. With Indigenous and settler people alienated from one another and from the grassland itself, hope and courage are in short supply. This book offers both by proposing an atonement that could again bring people and prairie together.
About the Author
Trevor Herriot is an award-winning author and a naturalist. Married with four children, Trevor and his wife, Karen, have a home in Regina, Saskatchewan, and a small cabin in the Aspen Parkland prairie south of Indian Head.