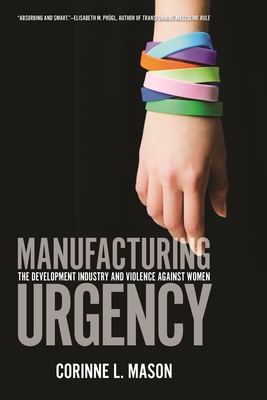 Manufacturing Urgency (Paperback)
The Development Industry and Violence Against Women
University of Regina Press, 9780889774711, 240pp.
Publication Date: May 20, 2017
* Individual store prices may vary.
Description
"Absorbing and smart."-- ELISABETH M. PR GL, author of Transforming Masculine Rule
Manufacturing Urgency investigates anti-violence policies in international development, demonstrating that strategies intended to end violence against women are constructed to serve ends other than the needs of women.
Through careful consideration of anti-violence initiatives--including "The Hillary Doctrine," the World Bank's The Cost of Violence and the United Nation's UNiTE To End Violence Against Women--Corinne Mason shows how these projects are technocratic, depoliticized, and executed in a manner that serves the interest of neoliberal economic growth and security concerns, at the expense of a more holistic, effective, and accountable approach.
"An impressive contribution to transnational feminism and development studies, and a valuable resource for policy-makers and practitioners. Mason's work is transdisciplinary, and theoretically sophisticated. She weaves together critical race, disability and feminist theory, literature on violence, development studies and their impact on policy with beautiful results. Undoubtedly, this book will situate her among the leading thinkers in the fields of transnational feminism and development."
-- ELORA HALIM CHOWDHURY, author of Transnationalism Reversed: Women Organizing Against Gendered Violence in Bangladesh
About the Author
Corinne L. Mason is an Associate Professor in Gender & Women's Studies and Sociology at Brandon University. She lives in Winnipeg, Manitoba.