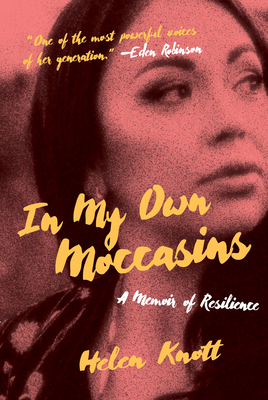 In My Own Moccasins
A Memoir of Resilience (Regina Collection #13)
Hardcover

* Individual store prices may vary.
Other Editions of This Title:
Digital Audiobook (8/23/2021)
Paperback (3/21/2020)
Description
Long-listed for the 2020 RBC Taylor Prize
A memoir of addiction, intergenerational trauma, and the lasting wounds of sexual violence
Helen Knott, a highly accomplished Indigenous woman, seems to have it all. But in her memoir, she offers a different perspective.
In My Own Moccasins
is an unflinching account of addiction, intergenerational trauma, and the wounds brought on by sexual violence. It is also the story of sisterhood, the power of ceremony, the love of family, and the possibility of redemption. With gripping moments of withdrawal, times of spiritual awareness, and historical insights going back to the signing of Treaty 8 by her great-great grandfather, Chief Bigfoot, her journey exposes the legacy of colonialism, while reclaiming her spirit.
University of Regina Press, 9780889776449, 366pp.
Publication Date: August 24, 2019
About the Author
Helen Knott is a Dane Zaa, Nehiyaw, and mixed Euro-descent woman living in Fort St. John, British Columbia. In 2016 Helen was one of sixteen global change makers featured by the Nobel Women's Initiative for being committed to end gender-based violence. Helen was selected as a 2019 RBC Taylor Prize Emerging Author. This is her first book.
1. Have you ever experienced addiction yourself or have had a loved one or close relative experience it? If so, what were the impacts of it within the family?
2. Did In My Own Moccasins (IMOM) give you insight into what may lead to addiction? If so, what?
3. In IMOM the author writes about treaty signing times relative to the people and territory she comes from, are you aware of what traditional territory you live in? Do you think it is important to know this information, why or why not?
4. The writer, Helen, makes reference to the region "raining men" because of a high male to female ratio due to oil and gas extractive work in the area. What issues do you think could arise from living in an area like this?
5. Healing from sexual violence is a core theme within the book and in the counseling session where the author speaks about her most recent rape, she mentions that she is pulling the story out of her body and that the body remembers. Physical responses happen when she recalls the story and eventually, she is cradling herself in the chair. Do you believe that the body holds memories, positive or negative? What do you think causes the body to respond to memory? Do you think that memories that cue heightened physical responses could impact long term health?
6. How does race factor into the experiences (sexual violence, addiction, oppression) that Helen describes?
7. There were many instances of how families, communities and society silence women and girls when it comes to speaking out about sexual violence – which instances stood out for you?
8. There was a depiction of struggling to choose between Christianity and traditional spiritual practices within IMOM which is sometimes still a lively issue in Indigenous communities. Have you experienced spiritual oppression in your life before? If so, how did you navigate through that?
9. Spirituality was a strong element to Helen's healing and most Indigenous people see individuals being composed of the mental, emotional, spiritual, and physical aspects – meaning all four areas need to be nourished and balanced for wellness. Do you believe that the spiritual aspect of individuals needs to be addressed when recovering from addiction or trauma or simply in the pursuit of wellness?
10. Helen writes about being in a social studies class where her friend Amanda makes a prejudiced remark about Treaty signing and Indigenous people. Were you taught about local Indigenous colonial and settler relations in school from narratives of both sides of the relationship? If so, what? If not, what kind of impact do you think that has?
or
Not Currently Available for Direct Purchase