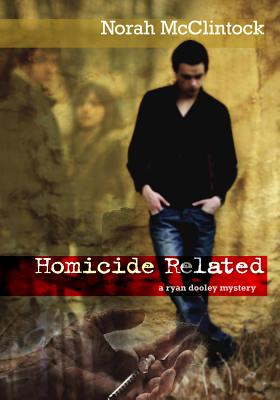 Homicide Related: A Ryan Dooley Mystery (Paperback)
A Ryan Dooley Mystery
Red Deer Press, 9780889954311, 345pp.
Publication Date: June 2, 2009
* Individual store prices may vary.
or
Not Currently Available for Direct Purchase
Description
In this sequel to Dooley Takes the Fall, Norah McClintock's gritty mystery of a year ago, Ryan Dooley continues to struggle against circumstances that would defeat most teenagers, let alone kids who have been in serious trouble with the law. Dooley (as he prefers to be known) was involved in a break and enter a few years ago, served his time, and is now living with his hard-nosed uncle, a former cop determined that the boy will find a way to lead a blameless and useful life from henceforth. But there are threads that still link Dooley to his former life of aimless criminality, and one of them - with the affable Jeffie, a sometime drug dealer and one-time buddy - threatens to bring him down, especially when Jeffie turns up dead, while still owing money to Dooley.
Much worse, Dooley's estranged mother turns up dead as well. They have been estranged for much of Dooley's life, and kept apart by the uncle who feels the son is better off away from the mother, but recently she has made efforts to clean up her act and get in touch with her son again. This time it's Dooley's uncle who is suspected of having caused her death somehow, and this of course has major implications for Dooley's own life. Looking around, the young man doesn't look to have many options in life, especially when the props holding up his existence start to get kicked away.
The best thing Dooley seems to have going for him is his girl friend, the luminous Beth, sister of a teen whose death was the focus of Dooley Takes the Fall. Never confident about his social status, Dooley hopes against hope that Beth will stick by him, but fears the competition from Nevin, a rich friend of the girl, who drives a Jag and always seems to be around when Dooley wants to be with Beth. Somehow, though, Dooley is able to work his way through the immense hazards in his life and emerge, not unscathed, but with his integrity intact.
Once again, award-winning author Norah McClintock weaves an intricately layered, page-turning mystery that will compel a wide range of readers and inspire a whole new legion of Ryan Dooley Mystery fans. Information is withheld until just the right moment, and through it all Dooley's spirit and determination, in the face of difficult odds, will hold readers' attention to the very last, unexpected paragraph.
About the Author
Norah McClintock is an internationally recognized author who has won five Arthur Ellis awards for crime writing. The first Ryan Dooley Mystery, Dooley Takes the Fall, is shortlisted for the OLA White Pine award. Norah lives in Toronto.
Advertisement