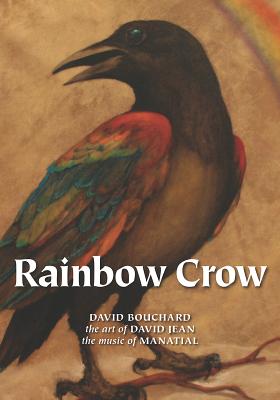 Rainbow Crow: Nagweyaabi-Aandeg [With CD (Audio)] (Hardcover)
Nagweyaabi-Aandeg [With CD (Audio)]
Red Deer Press, 9780889954588, 32pp.
Publication Date: August 31, 2012
* Individual store prices may vary.
or
Not Currently Available for Direct Purchase
Description
Before two leggeds walked on Mother Earth there was a great cold. The animals formed a council; someone had to seek help from the Creator. Rainbow Crow, a most colorful bird, was selected because he had a beautiful voice that would surely impress the Creator. He flew into the heavens and won fire from above. But on the way back the fire began to burn his plumage black and destroy his beautiful voice. But Rainbow Crow persevered, bringing the life-saving fire safely back to his friends. This Lenape legend of courage and sacrifice is masterfully retold by award-winning author David Bouchard. The stunning art, painted on traditional drums by celebrated Canadian artist, David Jean, will inspire young and old alike. On Resource Links' Best of 2013 list 2015 Golden Oak nominee
Order of Canada recipient and multi-award-winning Metis bestselling author David Bouchard teams up on this occasion with Cherokee master artist David Jean and the world renowned drummers and singers Manatial in this beautiful rendition of Rainbow Crow. Accompanied by a CD, Rainbow Crow will capture the hearts of readers of all ages.
About the Author
David Jean was born in Toronto to immigrant parents. His father was Mainland Chinese; his mother was from Barbados, a mix of Cherokee, African, and Dutch descent. His paintings and lithographs are widely acclaimed and complement numerous notable collections worldwide, including those of Giorgio Gucci and former Prime Minister Jean Chretien. Manantial is a native South American musical group from Salasaca, Ecuador, in the Andes. The Salasaca people speak Kichwa, the indigenous language found in the songs of Manantial. After many years of performing in Ecuador, the group moved to Europe and are now based in Paris. The song "Tatanka"is a tribute to Native North American music and can be found on the CD The Secret of Dancing Spirits, by Ayllu Records.
Praise For Rainbow Crow: Nagweyaabi-Aandeg [With CD (Audio)]…
Praise for THE DRUM CALLS SOFTLY
"With paired verses in English and Cree matched to broad, finely detailed scenes of dancing silhouettes placed against semi-abstract backgrounds, this illustrated poem compellingly invites readers to join the Round Dance at a powwow." – KIRKUS REVIEWS
PRAISE FOR THE LONG POWWOW NIGHTS
"This is a multisensory and multicultural gem. It utilizes poetry, music, and art to relate a story of powwow and intergenerational connection… Teachers of all levels and disciplines will be able to utilize this resource as a springboard for a variety of creative activities for students. The reader will be left with new insight into a traditional powwow with its mystic dancers and a daughter's remembrance of her mother through the ritual. The young at heart of all ages will relish this truly sensitive celebration of heritage and culture. This unique resource is a must for the library for youth." - VOYA
Advertisement