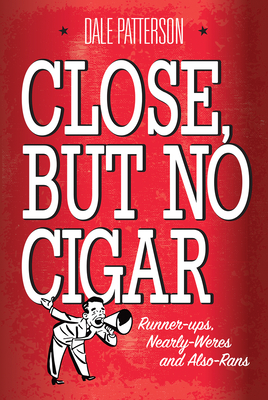 Close, But No Cigar
Runner-Ups, Nearly-Weres and Also-Rans
Paperback

* Individual store prices may vary.
Description
History is all about the winners, the heroes, the top dogs, right?
But what about those who almost made it, the "mighta, coulda, shoulda, wouldas" of the world? In this rousing collection by the author of Fifteen Minutes of Fame, veteran journalist Dale Patterson introduces the lovable losers and nearly-weres that reached the very cusp of glory, but fell a little short.
You'll read about Harold Stassen, who ran for president 10 times but never got the key to the White House. And Lord Halifax who in 1940 was front-runner to become Prime Minister of England but because of a dentist appointment, lost the job to Winston Churchill. Alfred Russel Wallace came up with the theory of evolution at the same time as Charles Darwin, but was relegated to near obscurity after publication of
The Origin of Species
.
Close, But No Cigar is a fascinating ride through the flip side of fortune and fame -- from science to sports to entertainment and politics.
Red Deer Press, 9780889955516, 264pp.
Publication Date: February 1, 2020
About the Author
Dale Patterson is the author of Fifteen Minutes of Fame. He lives near Toronto, Ontario.
or
Not Currently Available for Direct Purchase