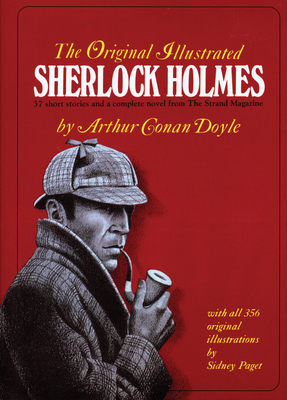 The Original Illustrated Sherlock Holmes
Hardcover

* Individual store prices may vary.
Other Editions of This Title:
Paperback (8/22/2019)
Description
Here are the original Sherlock Holmes stories by Arthur Conan Doyle as they first appeared in the famed British magazine The Strand. This periodical was the literary sensation of its time, especially with the publication of the novel The Hound of the Baskervilles (which appears in its entirety in this volume), when eager readers lined up outside the magazine's London offices, waiting for each installment as it came off press.This edition contains 37 short stories, reproduced in complete facsimile (published in individual volumes as "The Adventures of Sherlock Holmes", The Memoirs of Sherlock Holmes", and "The Return of Sherlock Holmes"), plus the complete novel The Hound of the Baskervilles. Today, the collection of the original issues of The Strand containing the Holmes stories is a rare collector's piece. It is brought to you now, complete and unabridged, comprising a total of well over 600 pages, providing the undying excitement and fascination of each and every Sherlock Holmes Adventure. The drawings of Sidney Paget illustrate the stories--illustrations as immortal as the stories themselves. Paget produced more than 350 Sherlock Holmes illustrations, and it was his depictions which gave Holmes visual reality for everyone, which projected him throughout the world, and which today still provide the mold of the original hero in production on stage, screen and television.
Castle Books, 9780890090572, 636pp.
Publication Date: November 29, 2009
About the Author
Arthur Conan Doyle was born in Edinburgh in 1859. After a rigorous Jesuit education he trained to become a doctor at Edinburgh University. Eventually he set up in medical practice in Southsea, and during the quiet spells between patients he turned his hand to writing. Although Sherlock Holmes was Doyle's greatest creation, he was more proud of his historical novels such as Micah Clarke and Sir Nigel. Towards the end of his life he devoted much of his time to his belief in spiritualism, using his writings as a means of providing funds to enable him to carry out activities in this field. He died in 1930.