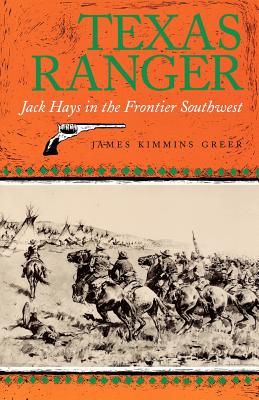 Texas Ranger (Paperback)
Jack Hays in the Frontier Southwest (Centennial Series of the Association of Former Students, Texas A&M University #50)
Texas A&M University Press, 9780890965726, 240pp.
Publication Date: November 1, 1993
* Individual store prices may vary.
Description
John Coffee Hays helped to forge the legend of what a Texas Ranger was. Arriving in Texas in 1836 but just missing the famous battles of the Texas Revolution, nineteen-year-old Hays soon had Sam Houston urging him to join a new group of Rangers. Once out on the frontier, Hays's careful planning and bold—indeed, sensational—forays against the Comanches soon earned him a colorful reputation and a host of nicknames.

At twenty-three Hays was commissioned a captain, and between skirmishes and battles his survey party marked out much of the area around San Antonio. Hays was pivotal in the ultimate defeat of the Comanches and led the Rangers during the Mexican War.
About the Author
Historian James Kimmins Greer lives in Waco, Texas, home of the Texas Ranger Museum.