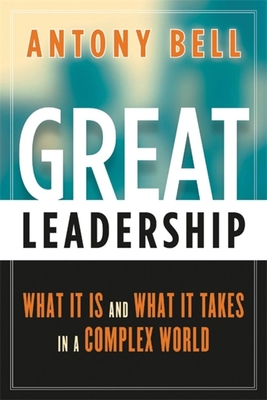 Great Leadership (Paperback)
What It Is and What It Takes in a Complex World
Nicholas Brealey, 9780891063971, 228pp.
Publication Date: February 16, 2011
* Individual store prices may vary.
Description
Distilling the wisdom of the past with an eye toward the future, Great Leadership cuts through the complexity of leading organizations, operations, and people to make leadership development manageable and greatness attainable.

Whether you are looking to lay a solid foundation for a lifetime of great leadership or searching for a curriculum to guide your self-development, Antony Bell has mapped out a journey of discovery to help you uncover what drives your leadership style and do what it takes to practice leadership that is both noble and competent.
About the Author
Antony Bell is co-founder and managing partner of Leader Development. Inc., whose nationwide consulting partners have worked with such clients as Allied Signal, Bose Corporation, and March of Dimes on issues of leadership development and organizational change. An adjunct faculty member of the Daniel School of Management at the University of South Carolina, he is an international speaker and noted specialist in coaching executive teams for clients, including Nike South Africa and British Telecom.
Praise For Great Leadership: What It Is and What It Takes in a Complex World…
A great book for people who want to give serious thought to the application of great leadership. It is for those who are looking for more than superfi cial answers and who are willing to embrace the importance of both character and competenceâ??the two themes around which the book is structured.

Meets current needs of leaders in a way I have not seen anywhere else, providing practical, innovative direction for both novice and expert leaders. The stories of great leaders are inspiring, challenging todayâ??s CEOs to rise above mediocrity.—Dr. Kathy R. Hopkins, CEO, The National Institute for Learning Disabilities

Combines profound insight with a practical and usable framework to exercise great leadership and, in doing so, fills a void in the literature on leadership. I highly recommend this wonderful book.—The Honorable Jack Kemp, Former U.S. Congressman, Cabinet Secretary, and Vice Presidential Candidate