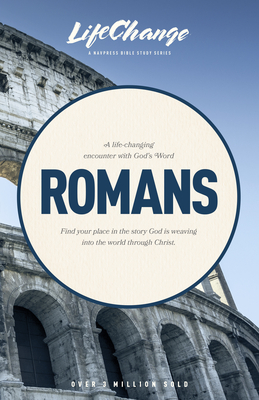 Romans (Paperback)
Encouragement for Your Lifetime Journey (LifeChange)
NavPress Publishing Group, 9780891090731, 224pp.
Publication Date: December 4, 2018
Other Editions of This Title:
Paperback (7/9/2013)
* Individual store prices may vary.
Description
Living, Dying, Resurrecting
What does Jesus' life, death, and resurrection mean for my life, death, and resurrection? In Romans, Paul--one of Christianity's first theologians--sets out to answer that question. Tracing numerous threads through the Old Testament, Paul shows how Jesus' death on the cross draws together humanity's collective failures and transforms them into a rich tapestry. Sin and death lose their power as we are bound up into resurrection life with God. Follow the threads and find your place in the story God is weaving into the world through Christ.
LifeChange
LifeChange Bible studies will help you grow in Christlikeness through a life-changing encounter with God's Word. Filled with a wealth of ideas for going deeper so you can return to this study again and again.
Features
Cover the entire book of Romans in 20 lessons
Equip yourself to lead a Bible study
Imagine the Bible's historical world
Study word origins and definitions
Explore thoughtful questions on key themes
Go deeper with optional projects
Add your notes with extra space and wide margins
Find the flexibility to fit the time you have
About the Author
John Davis is the founder and president of 2xtreme, P.C., a counseling center that serves families and at-risk youth in the Colorado area. He is also an in-demand speaker for schools, businesses, youth organizations, and churches. John lives with his wife and four children in southwest Denver.