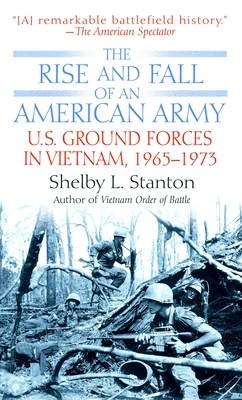 The Rise and Fall of an American Army: U.S. Ground Forces in Vietnam, 1963-1973 (Mass Market Paperback)
U.S. Ground Forces in Vietnam, 1963-1973
Presidio Press, 9780891418276, 448pp.
Publication Date: November 4, 2003
* Individual store prices may vary.
or
Not Currently Available for Direct Purchase
Description
THE MEN WHO SACRIFICED FOR THEIR COUNTRY ARE RIGHTFULLY HERALDED . . . This is an honest book one well worth reading. . . . Stanton has laid his claim to the historian's ranks by providing his reader with well-documented, interpretive assessments.
Parameters

The Vietnam War remains deep in the nation's consciousness. It is vital that we know exactly what happened there and who made it happen. This book provides a complete account of American Army ground combat forces who they were, how they got to the battlefield, and what they did there. Year by year, battlefield by battlefield, the narrative follows the war in extraordinary, gripping detail. Over the course of the decade, the changes in fighting and in the combat troops themselves are described and documented. The Rise and Fall of an American Army represents the first total battlefield history of Army ground forces in the Vietnam War, containing much previously unreleased archival material. It re-creates the feel of battle with dramatic precision.
Stanton's writing . . . gives the reader a terrifying graphic description of combat in the many mini-environments of Vietnam.
The New York Times

A] MOVING, IMPORTANT BOOK.
St. Louis Post-Dispatch

About the Author
Shelby L. Stanton is a noted military historian. During the conflict in Vietnam, he was commissioned as an infantry officer of the U.S. Army and completed the Airborne, Ranger, and Special Forces Officer courses. His six years on active military duty included service throughout Southeast Asia, where he earned the Vietnam service and campaign medals. He was also decorated for advisory duty in direct support of Cambodian operations. After being wounded in Laos, he was medically retired with the rank of captain. Stanton received a B.A., M.Ed., and J.D. from Louisiana State University. He is also the author of Rangers at War; Vietnam Order of Battle; and Order of Battle, U.S. Army, World War II.
Praise For The Rise and Fall of an American Army: U.S. Ground Forces in Vietnam, 1963-1973…
More praise for The Rise and Fall of an American Army

"Stanton captures vividly . . . the ferocity of the fighting. At times, his descriptions make you think he's writing about the bloody front in World War I . . . . [This book] provides fresh confirmation that . . . in battle after battle, American troops fought with incredible courage."
–The American Spectator

"Stanton has written by far the best book yet published about U.S. soldiers and marines in combat in Vietnam. . . . His word pictures of the violent encounters of that war are clear, evocative and authentic."
–GEN. WILLIAM E. DEPUY
ARMY magazine

"A lasting tribute to the men who fought and died in Vietnam. Those who served there–and those who would understand those who served there–owe [Stanton] an enormous debut of gratitude."
–COL. HARRY SUMMER
from the foreword

"This is one of those books every infantryman should own."
–Infantry magazine
Advertisement