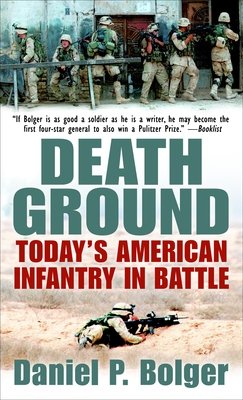 Death Ground: Today's American Infantry in Battle (Mass Market Paperbound)
Today's American Infantry in Battle
Presidio Press, 9780891418306, 416pp.
Publication Date: December 2, 2003
* Individual store prices may vary.
or
Not Currently Available for Direct Purchase
Description
"An informative and thought-provoking history of recent infantry operations with reasoned glimpses of its possible future."
–DR. SHAWN WHETSTONE
Military Heritage

"This is [Colonel Bolger's] most significant work to date, important both for students of the contemporary U.S. Army and for general readers– even those normally uninterested in military affairs. Bolger documents the infantry's change over the past sixty years from a mass force of citizen soldiers to a small body of elite professionals. He presents each currently existing type of infantry–paratroopers, air assault, mechanized, light, rangers, and marines. . . . In each case study, Bolger emphasizes the quality and preparation, making it quite clear that will without skill and motivation without competence are certain routes to disaster. . . . While praising today's infantry as the best the country has ever fielded, Bolger raises the prospect that the U.S. military, by emphasizing technology and economy, will leave the country with an elite infantry too small to sustain heavy losses and too specialized to be quickly replaced."
–Publishers Weekly

DEATH GROUND
Today's American Infantry in Battle

About the Author
Daniel P. Bolger currently serves as Chief of Staff of the 2d Infantry Division in Korea. His previous assignments include duty as J-5 (Director Strategy & Analysis) in U.S. Joint Forces Command in Norfolk, Virginia; command of the 2d Brigade, 2d Infantry Division in Korea; duty as G-3 (operations officer) and Infantry battalion commander with the 101st Airborne Division at Fort Campbell, Kentucky; an earlier assignment as a major with an Infantry battalion in Korea with the 2d Infantry Division; and service from platoon leader through rifle company commander with the 24th Infantry Division, then at Ft. Stewart, Georgia. A graduate of the U.S. Army War College at Carlisle Barracks, Pennsylvania and the U.S. Army Command & General Staff College at Fort Leavenworth, Kansas, Bolger also taught at the U.S. Military Academy at West Point, New York. He holds a doctorate in history from the University of Chicago. Presidio Press has also published his books "Dragons at War"; "Americans at War"; "Savage Peace; the Battle for Hunger Hill"; and the military novel "Feast of Bones."
Praise For Death Ground: Today's American Infantry in Battle…
"If Bolger is as good a soldier as he is a writer, he may become the first four-star general to also win a Pulitzer Prize."
–Booklist


"Infantry conjures many images: uncomfortable conditions, savage close combat, constant patrols, and the thousand-mile stare. Our popular media gives the impression that the wonders of precision weapons can win wars without subjecting the soldiers of modern militaries to these conditions . . . . The American way of war has always emphasized sending bullets, not men, a historical structure that continues in the current force structure. . . . Bolger's choice of operations illustrates two key points; first, that modern warfare has not made the infantry obsolete, and second, even very contemporary military history can be quite valuable in contemplating future combat."
–DR. SHAWN WHETSTONE
Military Heritage
Advertisement