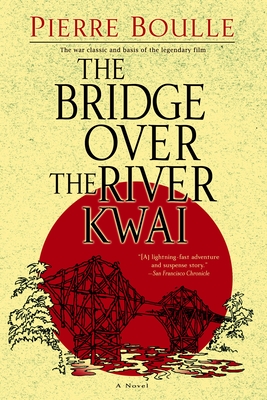 The Bridge Over the River Kwai (Paperback)
Presidio Press, 9780891419136, 207pp.
Publication Date: August 28, 2007
Description
1942: Boldly advancing through Asia, the Japanese need a train route from Burma going north. In a prison camp, British POWs are forced into labor. The bridge they build will become a symbol of service and survival to one prisoner, Colonel Nicholson, a proud perfectionist. Pitted against the warden, Colonel Saito, Nicholson will nevertheless, out of a distorted sense of duty, aid his enemy. While on the outside, as the Allies race to destroy the bridge, Nicholson must decide which will be the first casualty: his patriotism or his pride.
About the Author
Pierre Boulle was born in Avignon, France, in 1912. He originally trained as an engineer, but in 1936 he went to Malaysia and worked as a rubber planter. In 1939 he was called up in the French forces in Indochina, and when France fell during World War II, he fled to Singapore, where he joined the Free French Mission. After the Japanese invasion, he was sent via Rangoon and the Burma Road to Yunnan to establish contact with Kuomintang forces. He infiltrated Indochina as a guerilla where he was captured in 1943. He escaped in 1944, was picked up by a British plane, and served in the Special Forces in Calcutta for the rest of the war.His first novel to be published in the United States was The Bridge on the River Kwai. The book was awarded the Prix Sainte-Beuve prize in France, which led to the film version that received an amazing seven Academy Awards. He considered his subsequent books, of which Planet of the Apes is the most well known, to be social fantasies.
Praise For The Bridge Over the River Kwai…
"[A] lightning-fast adventure and suspense story."
–San Francisco Chronicle

"An amazing story . . . jumpy with suspense."
–The New Yorker

"A fine story of adventure in which a highly original conception makes a psychologically rich situation out of what could have easily been a simple tale of daring."
–Chicago Tribune

"An exciting story of action."
–The Atlantic Monthly

"Intelligent and thrilling."
–New York Post

"A memorable novel brilliantly conceived and brilliantly written."
–Harper's Magazine

"Superb . . . suspenseful."
–Time
Advertisement