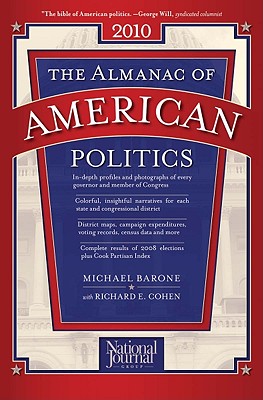 The Almanac of American Politics 2010 (Paperback)
National Journal Group, 9780892341207, 1726pp.
Publication Date: August 1, 2009
* Individual store prices may vary.
or
Not Currently Available for Direct Purchase
Description
The results of the 2008 presidential election were extraordinary, marking the beginning of a new period in American political history. Democrat Barack Obama became the first African American president in the United States, claiming a decisive over Republican John McCain. His fellow Democrats, meanwhile, established a robust majority in the Senate, winning seats in New Hampshire, New Jersey, and North Carolina, among others. Florida, Indiana, Ohio, and Virginia states carried by Republicans in previous elections went blue for the first time in decades. Across the political spectrum, Americans turned out to vote in droves.
No matter how you voted in the 2008 presidential election, it was unmistakably exciting. Its implications for both parties, however, remain unknown. From Internet fundraising to foreign policy, ballot fraud to ethics scandals, the political scene for Republics and Democrats is changing quickly. And in this time of uncertainty, there's one book both parties turn to: "The Almanac of American Politics. "The 2010 "Almanac "remains the gold standard of accessible political information, relied upon by everyone involved, invested, or interested in American politics.
As in previous editions, the 2010 A"lmanac" includes profiles of every member of Congress and every governor; as well as in-depth and completely up-to-date narrative profiles of all 50 states and 435 House districts, covering everything from economics to history to, of course, politics. It also contains Michael Barone's sharp-eyed analysis of the 2008 presidential elections, congressional elections, and redistricting battles. New to this edition is a statistical breakdown of the 2008 presidential vote by state and congressional district, plus coverage of all recent special elections.
Full of maps, census data, and information on topics ranging from campaign expenditures to voting records to interest group ratings, the 2010 "Almanac of American Politics" presents everything you need to know about American politics in snappy prose and framed by cogent analysis.
About the Author
Michael Barone is a senior writer at "U.S. News and World Report" and a Fox News Channel contributor. His most recent book is "Our First Revolution: The Remarkable British Upheaval That Inspired America s Founding Fathers. """Richard E. Cohen has decades of experience covering Capitol Hill as "National Journal" s congressional correspondent. The author of a biography of former Representative Dan Rostenkowski, in 1990 he won the prestigious Everett McKinley Dirksen Award for distinguished reporting on Congress."
Advertisement