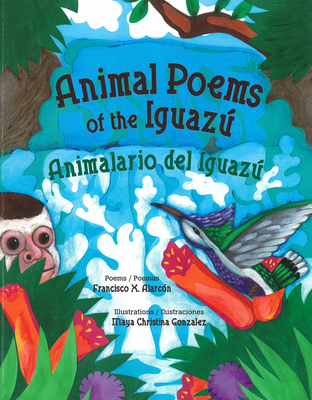 Animal Poems of the Iguazú / Animalario del Iguazú
Paperback

* Individual store prices may vary.
Description
let's listen to / the green voice / of the rainforest
The animals of the Iguaz speak for themselves, creating a collection of poems that will resonate with readers of all ages.
In the magical rainforest of the Iguaz National Park, butterflies are the multicolored flowers of the air. Great dusky swifts watch over the park, and the untamed spirits of jaguars roam the jungle. Spanning three countries--Argentina, Brazil, and Paraguay--the thundering waterfalls and lush green rainforests of the Iguaz have dazzled visitors for centuries, and are now in danger of being lost.
Following the Amerindian oral tradition, award-winning Chicano poet Francisco X. Alarc n lets the animals of the Iguaz speak for themselves in their own soaring, roaring, fluttering voices, and the resulting poems are as urgent as they are beautiful and humorous. Maya Christina Gonzalez's mixed media illustrations bring the colors and textures of the Iguaz rainforest to vibrant life.
Children's Book Press (CA), 9780892392995, 32pp.
Publication Date: May 1, 2014