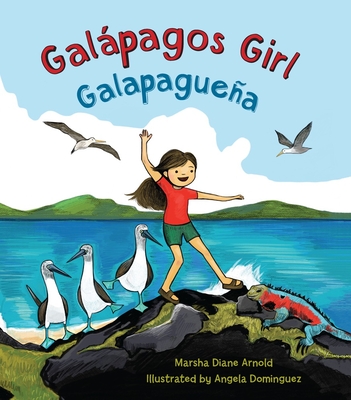 Galápagos Girl (Hardcover)
Galápagueña
Children's Book Press (CA), 9780892394135, 40pp.
Publication Date: September 18, 2018
* Individual store prices may vary.
Description
Valentina was born on an island formed by fire, surrounded by blue-green sea.
As a Gal pague a, Valentina spends her days observing the natural world around her. She greets sea lions splashing on the shore, scampers over lava rocks with Sally-lightfoot crabs, and swims with manta rays. But Valentina also understands the fragility of this wondrous world, and she makes a solemn promise to protect the islands and her animal friends.
This delightful bilingual story was inspired by the childhood of Valentina Cruz, whose family was one of the first permanent inhabitants of the Gal pagos. Valentina is now a biologist and naturalist guide who has dedicated her life to the conservation of the islands. Whimsical illustrations by Pura Belpr Honor recipient Angela Dominguez transport readers to these unique islands, which shelter a diverse number of plant and animal species, many found of which can be found nowhere else on the planet. Come discover this beautiful world with Valentina and her animal friends