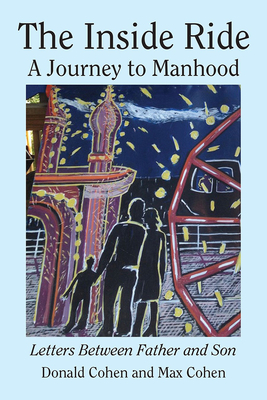 The Inside Ride (Paperback)
A Journey to Manhood
Nicolas-Hays, Inc, 9780892541911, 320pp.
Publication Date: June 1, 2020
* Individual store prices may vary.
Description
An extended and fearless exploration on the meaning of manhood in contemporary Western culture—at a moment in time in which both Fatherhood and Manhood have become endangered concepts. Pointing out the need for strong male relationships and guidance, this book offers an essential prescription for the psychological health of modern Western societies, which have lost the thread of traditional cultures and their time-honored rites of passage.
The extensive letter exchange between father and son demonstrates intimacy and honesty in analyzing and exploring the often tumultuous events of their lives. Trained in two different psychological disciplines, their interaction provides the reader a look at the complexity of growing up in America's fast-changing culture, offering invaluable insights for both children and parents.

With an introduction by Donald's son, Jared Cohen, author of the NY Times bestseller Accidental Presidents.
 
About the Author
Donald Cohen graduated from the State University of New York, and holds an MSW from Columbia University and a PhD in clinical psychology from the California School of Professional Psychology. He returned to the east coast to pursue a fellowship in the Department of Psychiatry at Yale University Medical Center, as well as begin his private practice. Donald also created, produced, and hosted the weekly television and radio show Kids Are Talking. He is a licensed marital and family therapist, and has published various articles over the years while conducting lectures and workshops on subjects related to children, particularly communication.

Dr. Max Cohen graduated from Cornell University and earned his MD from New York Medical College and completed psychiatric training at Columbia University. He was a practicing psychiatrist and psychoanalyst for over thirty-five years, and served as training and supervising psychoanalyst at Columbia and was a member of the school's psychiatric faculty. He passed away in 2011.
Praise For The Inside Ride: A Journey to Manhood…
"An intimate look into the power of reflections of two psychotherapists, a father and son. In a time of revolutionized modern communication, they invite the reader to hear the poignant story through thoughts expressed in responsive letters. Your heart will embrace your own child or parent as meaningful moments of revelation jump off the page."
— Janis Abrahms Spring, Ph.D., author of After the Affair, How Can I Forgive You?: The Courage to Forgive, the Freedom Not To, and Life with Pop: Lessons on Caring for an Aging Parent
"The Inside Ride, A Journey to Manhood offers a window into a complex and caring relationship between father and son. Set over a lifetime, these powerful letters permit us to participate in the evolving ties between two thoughtful and loving men."
— Jeffrey Werden, Ph.D., Psychoanalyst, Former President National Psychological Association for Psychoa
"This series of letters between Donald Cohen and Max Cohen serves as a dialogue over the years from Donald's early childhood to adulthood. The reader may be touched by the genuine mutual caring and respect, which enables them both to seek and offer understanding and compassion. Reminiscences from both father and son facilitate warmth and reconciliation. The symbolism of the Coney Island Ferris Wheel serves as a metaphor for "The Inside Ride" of their rich, evolving relationship. This book may offer a template for readers as we reflect on our own parent-child experiences."
— Joseph P. Wagenseller, D.Min., LP, Jungian psychoanalyst, Former Chair of the American Board for Accreditation in Psychoanalysis, Former President of the C.G. Jung Institute of New York City