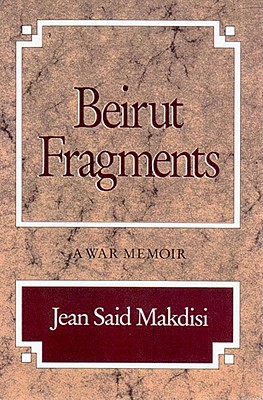 Beirut Fragments (Paperback)
A War Memoir
Persea Books, 9780892552450, 259pp.
Publication Date: April 17, 2007
* Individual store prices may vary.
Description
A new edition of the widely acclaimed account of the civilian experience of fifteen years of war in Beirut- "a profound, heartbreaking book" (Los Angeles Times Book Review), "an impassioned cry against indifference" (New York Times Book Review), "a work ringing with truth and insight" (Arab Book World)-now with an Afterword about the postwar years. A New York Times Book Review Notable Book An intensely personal yet timelessly crafted portrait of life in a worn-torn city, Beirut Fragments spans the years of the civil war in Lebanon, 1975-1990. When thousands fled, Jean Said Makdisi chose to stay. She raised three sons, taught English and Humanities at Beirut University College-and she wrote. She records the breakdown of society and the physical destruction of Beirut, the massacres of Sabra and Shatila, the Israeli Invasion, everyday acts of terrorism, the struggle to maintain ordinary routines amid chaos, and the incredible spirit of a people. A Palestinian, a Christian, a woman who has lived in Jerusalem, Cairo, the United States, and Beirut, Jean Said Makdisi uses the migrations of her own life as a paradigm which helps elucidate many of the conflicts in the region. The new afterword covers the postwars years, from the last ceasefire to the present day.
or
Not Currently Available for Direct Purchase