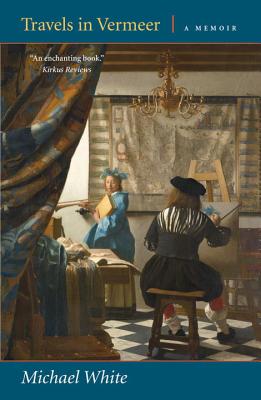 Travels in Vermeer
A Memoir
Paperback

* Individual store prices may vary.
Description
"This book is a treasure and a guide. It is a type of healing for the intellect and the heart." - (Rebecca Lee)
A lyrical and intimate account of how a poet, in the midst of a bad divorce, finds consolation and grace through viewing the paintings of Vermeer, in six world cities. In the midst of a divorce (in which the custody of his young daughter is at stake) and over the course of a year, the poet Michael White, travels to Amsterdam, The Hague, Delft, London, Washington, and New York to view the paintings of Johannes Vermeer, an artist obsessed with romance and the inner life.  He is astounded by how consoling it is to look closely at Vermeer's women, at the artist's relationship to his subjects, and at how composition reflects back to the viewer such deep feeling. Includes the author's very personal study of Vermeer. Through these travels and his encounters with Vermeer's radiant vision, White finds grace and personal transformation.
"White brings [sensitivity] to his luminous readings of the paintings.  An enchanting book about the transformative power of art."  - (Kirkus Reviews) 
"… Figures it took a poet to get it this beautifully, thrillingly right." - (Peter Trachtenberg)
"A unique dance among genres...clear and powerful descriptions touch on the mysteries of seduction, loss, and the artistic impulse."   - (Clyde Edgerton)





Praise For Travels in Vermeer: A Memoir…
An artistic treasure hunt....Following Vermeer grants White another kind of distance, allowing him to vanish into Vermeer's dream, then return refreshed to his own.
— New York Times Book Review

Reading Travels in Vermeer made Vermeer's paintings so emotionally real to me that by the end of the book I felt as if I knew them—as if they were characters in a marvelous novel about lost love, desire, and healing. 

— The Paris Review Daily

Through his obsession with Vermeer, White has crafted a powerful and affecting memoir that reminds us how art can be salvation.
— Publishers Weekly

White's descriptions are sensuous, precise and evocative. . . . luminous readings of the paintings. An enchanting book about the transformative power of art.
— Kirkus Reviews

A wise and clever book.
— The Sewanee Review
Persea, 9780892554379, 192pp.
Publication Date: March 5, 2015
About the Author
Michael White is the author of four collections of poetry and a memoir, Travels in Vermeer (Persea 2015), and has published widely in respected periodicals, including The Paris Review, The New Republic, The Kenyon Review, Ploughshares, Western Humanities Review, and the Best American Poetry. His most recent collection is Persea's Vermeer in Hell, winner of the Rudnitsky Editor's Choice Award.  White teaches poetry and is presently chair of the Creative Writing department at the University of North Carolina, Wilmington.

or
Not Currently Available for Direct Purchase