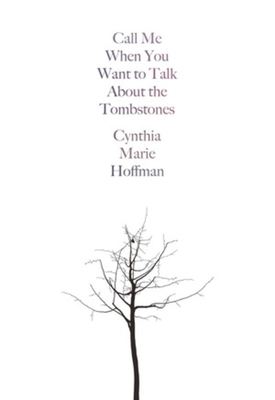 Call Me When You Want to Talk about the Tombstones (Paperback)
Poems
Persea, 9780892554898, 96pp.
Publication Date: July 3, 2018
* Individual store prices may vary.
Description
"Hoffman uses research extensively, and it adds a depth and range…that many contemporary poets do not achieve."—Foreward Reviews
In this book-length poetry sequence, a mother inherits a leather box that was her grandmother's. Her daughter joins her on a reconstruction of family history. Together they traipse through graveyards and sift through endless photos and clippings, piecing together what used to be in order to understand who they are.
About the Author
Cynthia Marie Hoffman grew up in Springfield, Virginia, and received her BA and MFA from George Mason University. She lives in Madison, Wisconsin. She is the author of Paper Doll Fetus (2014), and Sightseer (2011), which won the Lexi Rudnitsky First Book Prize in Poetry.
Praise For Call Me When You Want to Talk about the Tombstones: Poems…
These sprawling, collagic prose poems pull language from old letters, articles, and notes from both Hoffman and her mother.... Amid an artful probing of memory, Hoffman poses a profound question to
her readers: "What is the exact volume of scrap and residue we must
leave behind?"

These poems aren't so much new as ancient, primal. And yet Hoffman's surprising language makes them feel like a discovery.

... a necessary book. If life and death are inextricably wound together (and they are) it is impossible to write about
one without at least touching on the other. In this powerful,
scintillating collection, Hoffman tackles both subjects head on,
describing the various outcomes of pregnancy and, occasionally, birth.
Hoffman's poetry is dense, luscious and strongly narrative...
or
Not Currently Available for Direct Purchase