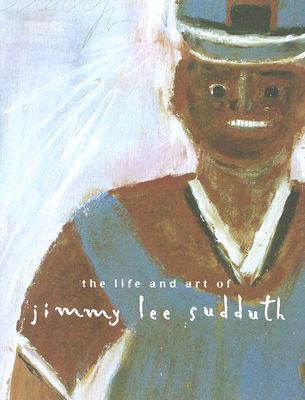 The Life and Art of Jimmy Lee Sudduth (Hardcover)
Montgomery Museum of Fine Arts, 9780892800452, 96pp.
Publication Date: March 10, 2006
* Individual store prices may vary.
Description
Jimmy Lee Sudduth was born March 10, 1910, to Alex Balzola Sudduth, field hands then living in the tiny community of Caines Ridge, near Fayette. Balzola was a medicine woman, part Native American, Who frequently took him with her into the woods and fields to search for plants for her herbal remedies. This experience provided him with an extensive knowledge of the flora of Fayette County, which he later used to color his paintings. On one of these trips as a small boy he created his first painting on a treestump, using mud from the surrounding ground. Several days later, they returned to the site and found the mud painting intact. His mother took this as a sign that her son should continue painting: thus began a career that continues to this day. His early works use a medium he calls "sweet mud," a distinctive blend of richly colored local clays mixed with sugary liquids (cola or syrup, for example). With this concoction substituting for paint, he has created works of amazing strength and power--"at once ingenious, charming, witty, and highly observant. Although his Fayette environment is restrictive in many ways, Sudduth's imagination is boundless. His subjects are complex and wideranging, from people, animals, and situations familiar to residents of west Alabama, to the larger world he knows mostly from popular media. With a wooden panel on his lap and his mud bucket beside him, he captures the images that fill his life, both experienced and imagined. Their formal qualities are inspiring and rigorously observed but achieved with a purposeful and sensitive spirit.

or
Not Currently Available for Direct Purchase