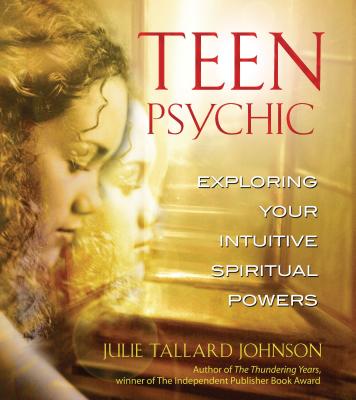 Teen Psychic
Exploring Your Intuitive Spiritual Powers
Paperback

* Individual store prices may vary.
Description
Teaches teens to develop and use their intuitive powers

• Includes quizzes, meditations, journal entries, popular quotes, and fun exercises to introduce teens to their intuitive powers

• Combines both contemporary and ancient stories of spiritual and intuitive empowerment

• By the author of The Thundering Years: Rituals and Sacred Wisdom for Teens, winner of the 2002 Independent Publisher Book Award for multicultural juvenile nonfiction

In Teen Psychic, award-winning author Julie Tallard Johnson provides a fun, meaningful process for developing your intuitive powers, as well as practical guidance in applying those powers to your personal spiritual journey. The wisdom teachings of numerous traditions blended with activities--such as meditations, exercises, journalizing, and quizzes--will help you tap into a reservoir of inner strength and knowledge, increasing your confidence and self-esteem.

Ancient stories and contemporary teen experiences of spiritual and intuitive empowerment, as well as the author's own insightful narrative, show you how to connect to your inner wisdom and to the greater wisdom that surrounds you. With inspiring quotations from a diverse group of wisdomkeepers including Caroline Myss, Black Elk, Anodea Judith, Myron Eshowsky, and Chögyam Trungpa, Teen Psychic helps you discover your true nature by accessing your intuitive powers and developing your psychic self.
Praise For Teen Psychic: Exploring Your Intuitive Spiritual Powers…
"This book is steeped in integrity and practical advice on how to safely develop (or further) your psychic abilities and psychic wisdom for the highest good of all."
— Linda Mackenzie, author of Help Yourself Heal With Self-Hypnosis and president of Creative Health &

"Tallard Johnson covers many core concerns of teenagers . . . this is a book of merit and depth."
— Publishers Weekly, November 2003

"Blazing the trail into adulthood is made easier with the knowledge and tools of this book."
— Paula Scardamalia, ForeWord, 2004, Vol.7 No.3

"Teen Psychic will be appreciated by teens who are ready to deal with and enhance their psychic energies."
— Susan LosCalzo, New Age Retailer, May/June 2004, Vol. 18 No. 3

"This book is wonderfully embracing in its honoring of the deep psychic and spiritual wisdom of teens."
— Myron Eshowsky, teaching faculty of the Foundation for Shamanic Studies and director of the Pathways

"This is a delightful and informative book with a healthy respect for the development of teen readers."
— Lori Collner, The Blessed Bee, Spring 2007
Bindu Books, 9780892810949, 256pp.
Publication Date: November 6, 2003
About the Author
A licensed psychotherapist and creative writing teacher, Julie Tallard Johnson has kept journals since the age of sixteen discovering how the writer and spiritual path are one and the same. She has spent the last thirty years working with individuals and groups to help them discover a spiritual practice that brings them a sense of purpose and happiness. The author of many books for teens including Teen Psychic, Spiritual Journaling, The Thundering Years, I Ching for Teens and Making Friends, Falling in Love, which was recognized by the New York Public Library as one of the best books for teens, she lives in Spring Green, Wisconsin.
Visit the author's web site at www.Julietallardjohnson.com
or
Not Currently Available for Direct Purchase