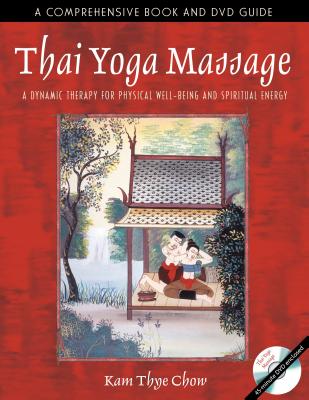 Thai Yoga Massage (Paperback)
A Dynamic Therapy for Physical Well-Being and Spiritual Energy
Healing Arts Press, 9780892811465, 160pp.
Publication Date: March 9, 2004
Other Editions of This Title:
Hardcover (2/1/2002)
* Individual store prices may vary.
Description
A paperback edition with DVD featuring a unique massage therapy that combines stretching, breath work, assisted yoga postures, and pressure point therapy

• Text includes more than 125 black-and-white photographs of instructional postures

• DVD features author demonstrating techniques for performing a one-hour massage

In the temples of Thailand many centuries ago, a dynamic bodywork therapy based on yoga, ayurveda, and the martial arts was born. In this unique healing system of Thai Yoga Massage, the practitioner guides the recipient through a series of yoga postures while palming and thumbing along the body's energy lines and pressure points. Together these actions result in a treatment that relieves muscular tension, improves circulation, boosts the immune system, and balances the body energetically.

In this paperback edition of Thai Yoga Massage, Kam Thye Chow not only leads readers through every aspect of this ancient bodywork therapy using more than 125 detailed, step-by-step photographs, but he also demonstrates the techniques for performing a one-hour massage in the accompanying DVD. Kam Thye Chow is one of the world's foremost practitioners and has taught massage in Thailand and throughout Europe and North America. With this text and DVD set, his personal training is now available for those who wish to see the techniques demonstrated live as a complement to the points discussed in the text.
About the Author
One of the first Thai yoga massage practitioners in North America, Kam Thye Chow has taught Thai massage in Thailand and throughout Europe, Canada, and the United States. The author of Thai Yoga Massage and Thai Yoga Therapy for Your Body Type, he is the founder and director of the Lotus Palm School in Montreal. Kam Thye Chow lives in Montreal.
Praise For Thai Yoga Massage: A Dynamic Therapy for Physical Well-Being and Spiritual Energy…
"Only a true master of Thai massage could present this profound healing art with such clarity and precision, and make it so accessible."
— Swami Ramananda, president of the Integral Yoga Institute of New York

"Necessary reading for anyone interested in this indigenous healing art and its contemporary practice. Kam Thye Chow is a sensei of the art and spirit of his work."
— Robert Calvert, founder of Massage Magazine and author of The History of Massage

"A supremely accessible teacher, Kam Thye is masterful with detail and nuance in the develpment and transmission of this ancient practice."
— Stephen Cope, author of Yoga and the Quest for the True Self

"I highly recommend this text for practicioners who are flexible and love floor work."
— Massage Today, November 2003, Vol.3 No.11

"This is a must-have for anyone interested in a dynamic therapy for physical well being."
— Nexus, March/April 2004

"A dynamic guide, therapists should add Thai Yoga Massage to their home instructional reference libraries."
— The Bookwatch, September 2004, Vol.26 No.9