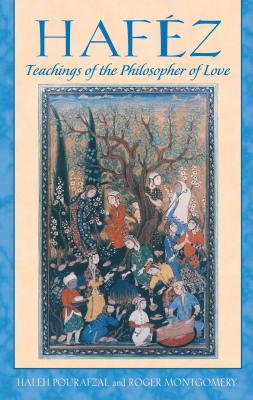 Haféz
Teachings of the Philosopher of Love
Paperback

* Individual store prices may vary.
Description
An exploration of the Persian poet's spiritual philosophy, with original translations of his poetry

• Features extensive insight into the meanings and contexts of the poetry and philosophies of this spiritual teacher

• Includes over 30 complete poems by Haféz, including "The Wild Deer," often regarded as his masterpiece

For 600 years the Persian poet Haféz has been read, recited, quoted, and loved by millions of people in his homeland and throughout the world. Like his predecessor Rumi, he is a spiritual guide in our search for life's essence. Haféz is both a mystic philosopher and a heartfelt poet of desires and fears.

Haféz: Teachings of the Philosopher of Love is the perfect introduction to the man known as the philosopher of love, whose message of spiritual transcendence through rapture and service to others is especially important to our troubled world. His wisdom speaks directly to the cutting edge of philosophy, psychology, social theory, and education and can serve as a bridge of understanding between the West and the Middle East, two cultures in desperate need of mutual empathy.
Praise For Haféz: Teachings of the Philosopher of Love…
"Haféz fears nothing. He sees too far; he sees throughout; such is the only man I wish to see or be."
— Ralph Waldo Emerson

"Haféz has no peer."
— Goethe

"Only the most enlightened of beings can benefit from the deepest human joys because within such beings resides a unique force of freedom and rapture. Their awareness rests in the house of spirit and their soul mates with their awareness meaning that which is discovered through awareness emanates from their soul and that which shines in the soul is known with awareness. This unity of spirit and mind is the legacy of Hafez."
— Friedrich Nietzsche

"This beautifully written and nicely presented discourse on his life and work honors the poet as a significant figure whose influence resonates still."
— NAPRA ReView

"This book is an ideal introduction to the spiritual guidance offered in Hafez's verses."
— Bodhi Tree Book Review, Winter 1999 / Spring 2000
Inner Traditions, 9780892811885, 288pp.
Publication Date: March 3, 2004
About the Author
A native of Iran, Haleh Pourafzal (1956-2002) studied the poetry of Haféz all her life. She was the former education director of Oxfam America, the international relief and development agency. Together with her husband, Roger Montgomery, Pourafzal founded Circle of Scribes, a unique consulting firm that creates visionary approaches to growth and social change.

Roger Montgomery is the author of Haféz and Twenty Count: Secret Mathematical System of the Aztec/Maya and lives in Berkeley, California.