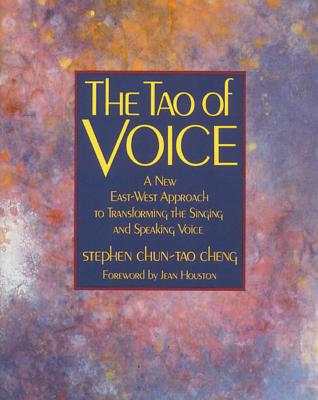 The Tao of Voice
A New East-West Approach to Transforming the Singing and Speaking Voice
Paperback

* Individual store prices may vary.
Description
Stephen Cheng's innovative book is the first to combine the best of Western vocal technique and modern psychophysical exercises with ancient Chinese philosophy and breathing practices. His simple but powerful vocal method is widely known for bringing about dramatic improvement in the performance of novices and professionals alike. Whether you are a singer, actor, or public speaker, it will help you to develop your vocal identity; increase vocal range and power; enhance the quality, dynamics, color, and expression of your voice; overcome stage fright; and memorize with ease.
Praise For The Tao of Voice: A New East-West Approach to Transforming the Singing and Speaking Voice…
"Should be a must-read for any aspiring actor or singer. Underlines the need to simultaneously work the body, mind, and spirit to achieve the desired result. And the joy is that this is never really hard work."
— Back Stage

"His suggestions have a simple, rich logic, consistent with Taoist principles."
— Sigrid Heath, Woodstock Times, January 28, 1993

" . . . this is an excellent book for people wishing to improve their singing, acting, or speech making."
— Health World

"Remarkable . . . sensitive musicality . . . His compositions are attractively unassuming."
— Robert Sherman, The New York Times

"Excellent"
— Philadelphia Inquirer

"Sparkling performance"
— Variety

"A very fine and sensitive singer"
— Alexander Kipnis, Renowned bass and vocal teacher

"A gifted singer . . . a superior way of reacting to the moods of each song"
— Alan Rich, The New York Times

TV comments on Cheng's concert:
"Tenor Stephen Cheng dazzled the crowd."
". . . World class musicians demonstrate how music can conquer the cultural divide."
— Honolulu's TV Channel 4 news broadcast on Cheng's East-West concert at the Honolulu Academy of the A

"...brings ancient Chinese philosophy to using the voice that can bring about psychic balance within the individual."
— Jayne Comins, The Singer, Aug-Sept, 2004

"This is interesting stuff, even if you're not planning on singing on stage or becoming a public speaker . . . . a must-have for singers, speakers, and those interested in Eastern religions."
— New View, Oct 2005
Destiny Books, 9780892812608, 144pp.
Publication Date: July 1, 1991
About the Author
Born and raised in China and educated in the United States, Stephen Chun-Tao Cheng received his Master of Arts degree and graduate Professional Diploma from Columbia University, and honors recognition from the graduate school of the Juilliard School of Music. He is an acclaimed singer, actor, composer, and teacher of voice. He has taught at New York University, the New School for Social Research, the Stella Adler Conservatory, the New York Open Center, the American Academy of Dramatic Arts, and Sarah Lawrence College. A frequent guest singer at the United Nations, Professor Cheng has appeared in concerts worldwide, bringing diverse cultures together through the arts.