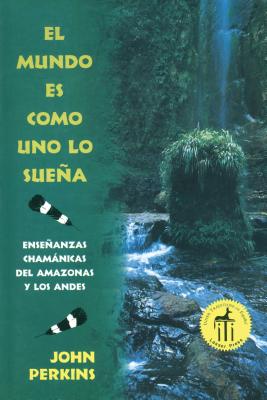 El mundo es como uno lo sueña
Enseñanzas chamánicas del Amazonas y los Andes
Paperback

* Individual store prices may vary.
Other Editions of This Title:
Paperback (4/1/1994)
Description
En las profundidades de los espesos bosques y en las alturas de los Andes ecuatorianos, los chamanes enseñan la técnica ancestral de cambiar los sueños, una tradición que ha mantenido vivas y vigentes culturas como las de los otavalanos, salasacanes y shuaras, a pesar de los siglos de conquista. Ahora estos chamanes enfocan su sabiduría y poder en sanar una nueva enfermedad: la creada por los sueños del mundo industrializado, sueños que pretenden dominar y modificar la naturaleza.

En éste su tercer libro, sobre la espiritualidad y ecología nativas, John Perkins narra la historia de esos otables chamanes y de los médicos, psicólogos y científicos norteamericanos que han viajado con él para aprender las técnicas del cambio de sueños. Las enseñanzas de los chamanes han provocado una revolución en los conceptos modernos de curación, del subconsciente, y del poder de cada uno para alterar la realidad individual y colectiva.

John Perkins, autor internacionalmente aclamado, estudioso y activista defensor del medio ambiente, ha viajado y vivido en Sudamérica desde 1968, primero como voluntario de los Cuerpos de Paz y más tarde como consejero de las Naciones Unidas. Es también autor de The Stress-Free Habit y Psiconavegación (Lasser Press, 1995).
Praise For El mundo es como uno lo sueña: Enseñanzas chamánicas del Amazonas y los Andes…
"A magnificent book! It has a place of honor in my personal library. Perkins' The World Is As You Dream It is a masterly and understanding exploration of shamanic inner thinking. It is thought-provokingly written, a most valuable contribution."
— Richard Evans Schultes, Ph.D., Harvard Jeffrey Professor of Biology, Director of Harvard Botanical M

"The dream not only drives the action, it also guides the action. Through John Perkins we learn this truth as it is taught with special vividness by indigenous people."
— Thomas Berry, author of The Dream of the Earth and The Universe Story (with Brian Swimme)

"The World Is As You Dream It is one of those rare books that tells a riveting story at the same time as it provides deep insights into what makes us who we are and the world what it is. I was so riveted to this book that I couldn't put it down for a second until I finished reading it."
— Cynthia S. Larson, Realityshifters.com
ITI en Espanol, 9780892814657, 160pp.
Publication Date: January 1, 1996
About the Author
John Perkins has traveled and worked with South American indigenous peoples since 1968. He currently arranges expeditions into the Amazon and has developed the POLE (Pollution Offset Lease on Earth) program with the Shuar and Achuar peoples as a means of preserving their culture against the onslaught of modern civilization. He is also the author of The Stress-Free Habit, Psychonavigation, Shapeshifting, and The World Is As You Dream It.