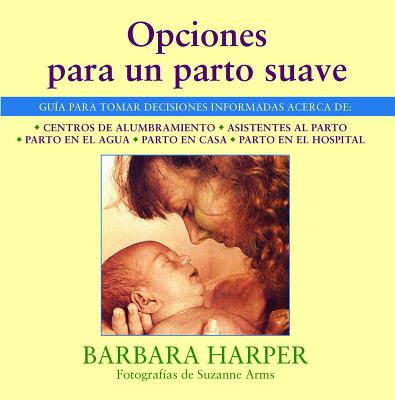 Opciones para un parto suave
Guía para tomar decisiones informadas acerca de centros de alumbramiento, asistentes al parto, parto en el agua, parto en casa, y parto en el hospital
Paperback

* Individual store prices may vary.
Description
Debido al alto índice de cesáreas de los hospitales, que son en algunos casos de hasta un 50 por ciento, las mujeres de todo el mundo desean reformar los métodos de parto y rescatar el control sobre su propio cuerpo. En Opciones para un parte suave, Barbara Harper, partera, enfermera y madre de tres hijos, define los elementos que debe tener un parto suave: apoyo de los seres queridos, ambiente apacible y tranquilizador y el mínimo de intervención médica. Muestra cómo planificar un parto significativo y familiar y analiza las muchas y diversas alternativas disponibles, incluyendo el dar a luz en un centro de alumbracmiento independiente, en casa o en el hospital; la búsqueda de la persona indicada para los primeros auxilios, que comparta nuestra filosofía acerca del parto, ya sea una partera, un doctor o ambos; y la decisión de cuál de las tecnologías actuales es el mejor. La autora proporciona además consejos prácticos para las parejas que desean experimentar el parto en el agua, una opción que ensalza los atributos del agua como relajante y analgésico natural, en contraste con las drogas y sus efectos secundarios indeseables.

Opciones para un parto suave aporta un nuevo modelo de maternidad que reduce la necesidad de intervención de alta tecnología y se enfoca en cambio en la preparación y la buena salud de la madre y el bebé. Incluye más de 50 fotografías en blanco y negro, de Suzanne Arms, que captan el gozo e intensidad del nacimiento.
Praise For Opciones para un parto suave: Guía para tomar decisiones informadas acerca de centros de alumbramiento, asistentes al parto, parto en el agua, parto en casa, y parto en el hospital…
"Harper is among the most active, enthusiastic, and effective writers and advocates in the field of childbirth education today."
— Michel Odent, M. D., author of Birth Reborn

"One of the Top ten recommended books for pregnant women and their families."
— Lamaze International, Fall/Winter 2001

"Exactly the sort of guide that pregnant women have needed to help them sort throught the myriad number of choices and options."
— Robbie E. Davis-Floyd, author of Birth as an American Rite of Passage
ITI en Espanol, 9780892814718, 300pp.
Publication Date: June 1, 1996
About the Author
Barbara Harper's passion for natural birth led to the founding in 1988 of Global Maternal/Child Health Association, a nonprofit organization dedicated to education and research about natural childbirth. She lectures worldwide on maternity care reform and water birth and is the author of Gentle Birth Choices. She lives outside of Portland, Oregon.

Suzanne lives near Durango in SW Colorado and works with the help of volunteer interns from across North America.
or
Not Currently Available for Direct Purchase