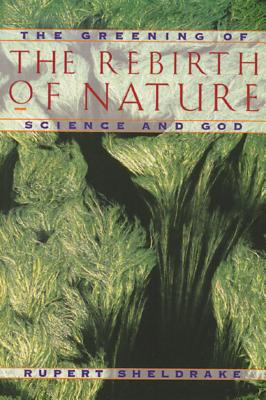 The Rebirth of Nature (Paperback)
The Greening of Science and God
Park Street Press, 9780892815104, 272pp.
Publication Date: April 1, 1994
* Individual store prices may vary.
Description
Rupert Sheldrake, one of the world's preeminent biologists, has revolutionized scientific thinking with his vision of a living, developing universe--one with its own inherent memory. In The Rebirth of Nature, Sheldrake urges us to move beyond the centuries-old mechanistic view of nature, explaining why we can no longer regard the world as inanimate and purposeless. Sheldrake shows how recent developments in science itself have brought us to the threshold of a new synthesis in which traditional wisdom, intuitive experience, and scientific insight can be mutually enriching.
About the Author
Rupert Sheldrake is a biologist, a former research fellow of the Royal Society at Cambridge, a current fellow of the Institute of Noetic Sciences near San Francisco, and an academic director and visiting professor at the Graduate Institute in Connecticut. He received his Ph.D. in biochemistry from Cambridge University and was a fellow of Clare College, Cambridge University, where he carried out research on the development of plants and the ageing of cells. He is the author of more than eighty scientific papers and ten books, including Dogs That Know When Their Owners Are Coming Home; Morphic Resonance; The Presence of the Past; Chaos, Creativity, and Cosmic Consciousness; The Rebirth of Nature; and Seven Experiences That Could Change the World. In 2019, Rupert Sheldrake was cited as one of the "100 Most Spiritually Influential Living People in the World" according to Watkins Mind Body Spirit magazine.
Praise For The Rebirth of Nature: The Greening of Science and God…
"This frontal assault on conventional science embodies a radical rethinking of humanity's place in the scheme of things."
— Publishers Weekly

"The Rebirth of Nature is a breakthrough book, beautifully written and spiritually oriented. It shows our intimate relationship with the universe--that we are a part of a breathing, living, thinking cosmos and that intelligence is a pervasive reality inseparably one with nature. This book will take everyone who reads it to new heights of understanding."
— Deepak Chopra, M.D., author of Ageless Body, Timeless Mind

"A beautifully written, deeply felt, and sinuously argued challenge to many habits of thought."
— Booklist