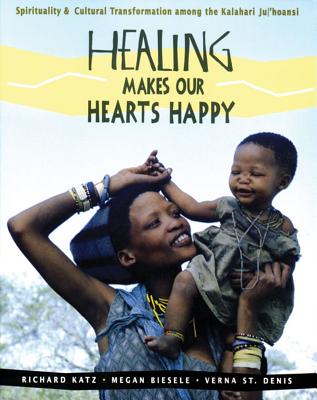 Healing Makes Our Hearts Happy (Paperback)
Spirituality and Cultural Transformation among the Kalahari Ju|'hoansi
Inner Traditions, 9780892815579, 240pp.
Publication Date: October 1, 1997
* Individual store prices may vary.
Description
One of the world's oldest continuing societies, the Ju/'hoansi, or Bushmen of the Kalahari Desert offer profound insights into what is fundamental to human existence. In the face of outside pressures that threaten the complete disruption of their communal way of life, the Ju/'hoansi find deep spiritual resources in their traditional healing dance. Their indigenous method of healing individuals is also a powerful affirmation of the community, and has recently become a means of settling land and property disputes, problems that never existed in the old days. The healing dance promises to be the crucial factor that allows the Ju/'hoansi to preserve their culture into the 21st century. These inspiring people set an example for us to look beyond the false promises of modern technology in search of the spiritual healing that is so desperately needed in our own culture and within ourselves.
About the Author
Dedicated to the respectful exchange between Indigenous teachings about health and healing and mainstream Western psychology, Richard Katz received his Ph.D. in Clinical Psychology from Harvard, where he taught for nearly 20 years. Over the past 50 years, Dr. Katz has spent time working with Indigenous elders and healers in various parts of the world, including the primarily hunting-gathering Ju/'hoansi of the Kalahari Desert, the Indigenous Fijians of the South Pacific, the Sicangu Lakota of Rosebud Reservation, and the Cree and Saulteaux First Nations people of Saskatchewan. At the request of the Indigenous elders he has worked with, he seeks to bring their teachings into contact with mainstream psychology. The aim is to encourage the mainstream to be more respectful of diversity, more committed to social action, and more appreciative of the spiritual dimension in health and healing. Dr. Katz has written 7 books on culture and healing. He is currently Professor Emeritus at First Nations University of Canada and Adjunct Professor in the Department of Psychology at the University of Saskatchewan. He lives in Saskatoon, Saskatchewan, Canada.

Megan Biesele, an anthropologist and development worker in Austin, Texas, spends three months each year in the Kalahari as an educational consultant for the Ju/'hoansi.

Verna St. Denis, a Cree Metis, is a professor of Indian and Northern education at the University of Saskatchewan.
Praise For Healing Makes Our Hearts Happy: Spirituality and Cultural Transformation among the Kalahari Ju|'hoansi…
"The researchers' sensitivity to the Ju/'hoansi, and their faithful commitment to the people's story or their own use as well as for Westerners, makes this book a rare treasure of integrity and knowledge preserved for all time."
or
Not Currently Available for Direct Purchase