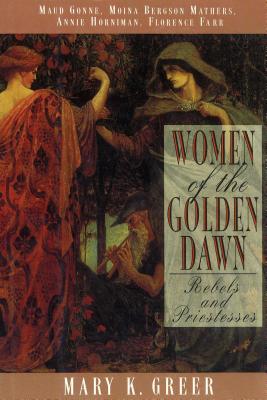 Women of the Golden Dawn
Rebels and Priestesses: Maud Gonne, Moina Bergson Mathers, Annie Horniman, Florence Farr
Paperback

* Individual store prices may vary.
Description
These four remarkable women, core members of the Hermetic Order of the Golden Dawn, left a lasting imprint on the politics, literature, and theater of 19th-century Europe. Less well-known than the famous men in their lives, including Yeats and Shaw, their stories are now told.
Praise For Women of the Golden Dawn: Rebels and Priestesses: Maud Gonne, Moina Bergson Mathers, Annie Horniman, Florence Farr…
" . . . reads like an elegant novel; I couldn't put it down. Discover what feminist women were all about a hundred years ago."
— Vicki Noble, author of Motherpeace: A Way to the Goddess

"Explores the stories of these strong, interesting women. Well-written and well-researched."
— Library Journal
Park Street Press, 9780892816071, 512pp.
Publication Date: October 1, 1996
About the Author
Mary Katherine Greer is a former professor of women's studies and the author of The Essence of Magic and three books on Tarot, including Tarot for Your Self: A Workbook for Personal Transformation. She leads workshops in women's mystery traditions, aromatherapy, writing, and Tarot throughout the United States and in Europe and lives in Nevada City, California.