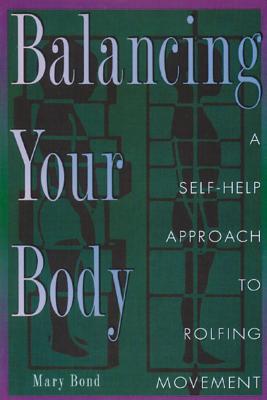 Balancing Your Body
A Self-Help Approach to Rolfing Movement
Paperback

* Individual store prices may vary.
Description
Going beyond good posture and movement efficiency, Mary Bond presents a unique self-help program of body transformation. Much of what we experience as physical tension or stress is the result of an imbalanced body. When our physical structure is habitually bent, twisted, and compressed, the body glues itself together with tension in order to remain upright. Bond demonstrates how the connective tissue that holds our bodies together is actually very flexible and will, with encouragement, adapt to new, healthy patterns of posture and movement.

Rolfing Movement combines touch and verbal messages to help you become more responsive to your body's inner cues. The author offers a practical series of structural awareness exercises that will help you redirect your awareness to internal sensations of tension or balance. These movement explorations are written as scripts so that you can practice the movements with detailed directions. By learning to recognize and respond appropriately to your body's internal messages, you will discover a new freedom of expression in your body, leading to a marked increase in health and vitality.
Praise For Balancing Your Body: A Self-Help Approach to Rolfing Movement…
"Meticulous instructions for exploring how you hold and move every part of your body. The rewards aren't to be underestimated. Rolfing Movement goes to the core of why many people feel stiff and disjointed."
— Natural Health

"A do-it-yourself program of balancing the body through a series of structural awareness exercises that focus on balance in how we walk, breathe, sit, and do simple movements, taking us on a fascinating and vital journey into the blueprint of our structure."
— Yoga Journal

"One of the most interesting and useful self-help books available."
— Massage Magazine
Healing Arts Press, 9780892816422, 224pp.
Publication Date: July 1, 1996
About the Author
Mary Bond has a Master's degree in dance from UCLA and trained with Dr. Ida P. Rolf as a Structural Integration practitioner. She is a movement instructor at the Rolf Institute and teaches movement workshops nationally. The author of Balancing Your Body and The New Rules of Posture, she has also published articles in numerous health and fitness magazines. She lives in California.