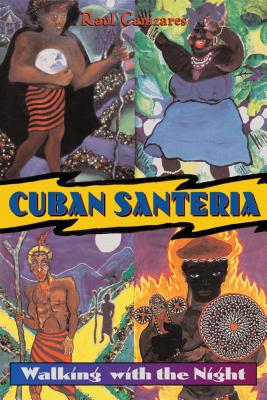 Cuban Santeria
Walking with the Night
Paperback

* Individual store prices may vary.
Other Editions of This Title:
Paperback, Spanish (3/1/2002)
Description
A revealing window into the secret and seductive world of Santeria.

• A Santeria priest discloses information never before revealed to outsiders.

• Removes the veil of occultism from Santeria to show it as a highly spiritual, thriving religion.

Initiated into the Santeria priesthood at the age of seven, Raul Canizares unveils in Cuban Santeria the secret and seductive world of this rapidly growing, yet largely misunderstood, Afro-Cuban religion. With the knowledge of an insider and the insight of a scholar, Canizares astutely examines the practice of Santeria, revealing many of its hidden dimensions while simultaneously providing a fascinating account of its unique textured mix of African, Cuban, and Catholic traditions.

The Cuban-born author describes the practices and rituals of the followers of Santeria--from magical herbal prescription and healing to spiritism and animal sacrifice--and explains how for many years the religion has been maintained under the guise of Catholicism to avoid religious persecution. Most initiates are sworn to a code of silence, but Canizares believes that the time has come to move Santeria, a religion of beauty and resilience, out of the darkness and into the light so that a more accurate picture of this rich tradition can emerge.
Praise For Cuban Santeria: Walking with the Night…
"The finest study in English to date of a faith on the brink of becoming a world religion."
— William J. Heim, Ph.D., University of South Florida

"The author of this newest Santeria text is both a scholar of the faith and a devotee. Is there a tougher balance to maintain when writing about any religion? The fact is, Canizares executes the balancing act with considerable precision and charm, making this perhaps the finest introduction to the increasingly popular religion since Joseph Murphy's Santeria: an African Religion in America (Beacon, 1988)."
— The Beat

"Raul Canizares paints a colorful picture of Santeria's oral traditions and musical connections, and raises the curtain of mystery on a vivid and vital faith."
— Islands

"A fascinating journey of a little known religious order that puts forward the perception that Santeria is a thoughtful and deliberate response of a thinking people to a hostile social environment."
— What's on the Planet

"Raul Canizares has written an insightful overview of this religion."
— Spirituality & Health, December, 2001

"Canizares pierces through Santeria's outer shell to discuss its gods and initiations, rituals, history and legacy. . . . The narrative comes alive with anecdotes from the author's own involvement."
— NAPRA Trade Journal

"Raul Canizares offers a truly unique perspective in this book - that of not only an active member of the religion of Santeria, but of a high-ranking member of that religion. . . . This book should be in the library of every religious educator, I know it will have a prominent place on my own library shelves."
— Mike Gleason, Witchgrove, March 2007
Destiny Books, 9780892817627, 176pp.
Publication Date: March 1, 1999
About the Author
Raul Canizares (1955-2002) was head of the Santeria Temple Orisha Consciousness Movement in Manhattan and the author of Shango: An African-American Titan.