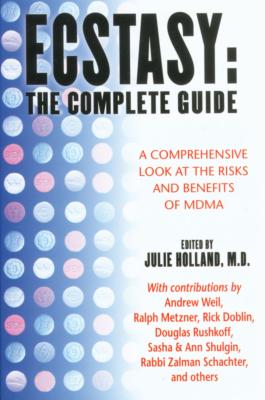 Ecstasy
The Complete Guide: A Comprehensive Look at the Risks and Benefits of MDMA
Paperback

* Individual store prices may vary.
Description
• The world's leading experts on Ecstasy assess its therapeutic potential, social implications, and the dangers of unsupervised use.

• Includes chapters by Andrew Weil, Ralph Metzner, Douglas Rushkoff, Rabbi Zalman Schachter, Rick Doblin, and others.

• An ideal guide for parents and educators seeking a credible source of information.

Use of the drug Ecstasy, once confined to the teen rave scene and college campuses, is exploding across America, from high schools to upscale clubs. Described by users as the most intense euphoria they know and by detractors as a cause of brain damage and even death, Ecstasy has generated unprecedented levels of interest-and misinformation.

Written by the world's leading experts on MDMA, Ecstasy: The Complete Guide takes the first unbiased look at the risks and the benefits of this unique drug, including the science of how it works; its promise as a treatment for depression, post-traumatic stress disorder, chronic pain, and other illnesses; and how to minimize the risk of illicit use. Whether you are a raver, a concerned parent, or a professional wanting the most recent reports on MDMA research, Ecstasy: The Complete Guide provides the answers you need.
Praise For Ecstasy: The Complete Guide: A Comprehensive Look at the Risks and Benefits of MDMA…
"MDMA is a unique compound with great potential for positive use. This is the most complete book about it, with much information to help people realize that potential as well as reduce any possible harm."
— Andrew Weil, M.D., author of 8 Weeks to Optimum Health, and Spontaneous Healing

"Ecstasy: The Complete Guide offers a thoroughly engaging, multifaceted look at a very controversial substance. Well done."
— Spalding Gray, actor, performer, and author of Morning, Noon, and Night and Impossible Vacation

"This is the best contemporary overview of MDMA, one which simultaneously succeeds for popular and scientific audiences. Encyclopedic in its scope, it is at the same time most readable."
— Lester Grinspoon, M.D., professor emeritus, Harvard Medical School and author of Marijuana: The Forb

". . . this volume makes a strong case for studying and legalizing MDMA for therapeutic purposes, without minimizing the potential dangers of abuse. An important contribution to the literature on illegal drugs."
— Eris Weaver, Library Journal, September 15, 2001

"In an important addition to the literature, a psychiatrist at Bellevue Hospital who is an expert on street drugs has gathered papers from numerous experts that discuss hazards of the drug and ways to mitigate them."
— Library Journal, May 1, 2002

"A comprehensive tome, this book offers something for nearly anyone interested in substance use and abuse, regardless of their perspective. Overall, a good addition to a comprehensive collection on psychoactive drugs that appear to have both therapeutic and abuse potentials."
— T.D. DeLapp, Choice, May 2002

"The most thorough book about MDMA around, with contributions from a host of physicians, chemists and research scientists. A marvelous, original book undertaken with great care and with a precise scientific appreciation of what chemicals can do when used under the proper conditions and by the proper, sympathetic professionals."
— The Book Reader, Spring/Summer 2002

"It's heartening to read such a thorough and balanced book."
— Jon Hanna, High Times, February 2002 v

"The audience that the author is targeting is mostly those in the expert medical field and even users of MDMA/Ecstasy. She states that she doesn't encourage people to use it, but would rather promote its use for mental and physical safety. She feels as if it should be used as a prescription medicine. However, for those that are recreational users, she wants to inform them of the danger from the drug Ecstasy sold in clubs and raves where the buyer doesn't know what is truly being ingested."
— Mercede's Blog, Feb 2009
Park Street Press, 9780892818570, 464pp.
Publication Date: August 1, 2001
About the Author
Julie Holland, M.D., is a psychiatrist who specializes in psychopharmacology and a clinical assistant professor of psychiatry at NYU School of Medicine. An expert on street drugs and intoxication states, she was the attending psychiatrist in the Psych ER at Bellevue Hospital from 1996 to 2005 and regularly appears on the Today Show. The editor of The Pot Book: A Complete Guide to Cannabis and Ecstasy: The Complete Guide and the author of the bestselling Weekends at Bellevue, she lives in the Hudson Valley.