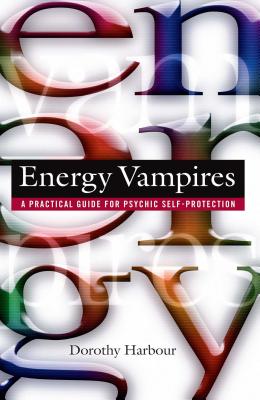 Energy Vampires
A Practical Guide for Psychic Self-protection
Paperback

* Individual store prices may vary.
Description
A practical guide for how to protect yourself, your business, and the people you care about from those who prey on and consume the energy of others.

• Outlines the basic laws that govern the interchange of life energy.

• Reveals how to calculate your own energy balance and identify personal danger zones.

• Offers exercise programs to attain a balanced personal energy level and build an "energy immune system".

Our lives are a constant exchange of energy. More often than not we are like molecules, randomly reacting and responding to external energy forces that we are not aware of. One such force is the energy vampire: individuals who take excessive amounts of energy without giving anything in return, leaving us drained and ineffectual.

Dorothy Harbour provides a clear guide to self-protection from individuals and situations that drain our personal energy. From exercises such as "musical aura stimulation" and meditations like "the pillar of light" we learn how to strengthen our auras and ground ourselves psychologically. Numerous case studies--from "love vampire" to "aura protection against sexual harassment"--teach us how to recognize the energy vampires in our midst. Other helpful practices demonstrate how to cleanse our subconscious of "psycho-trash," protect ourselves and family from energy vampires, and even lovingly cure the vampires themselves.
Praise For Energy Vampires: A Practical Guide for Psychic Self-protection…
"Readers will find her personal case studies and testimonies from energy vampire victims interesting as well as insightful."
— The Shy Librarian, Summer 2003
Destiny Books, 9780892819102, 192pp.
Publication Date: April 1, 2002
About the Author
A gifted energy medium, Dorothy Harbour has been seeing the auras and energy fields of the people around her since she was a child. In 1985 she left her career in the insurance industry to pursue spiritual counseling full time. Combining her corporate world experiences as an insurance broker with her intuitive skills as an energy healer, Dorothy now has a private practice in psychic self-protection and energy therapy. She lives in Germany.