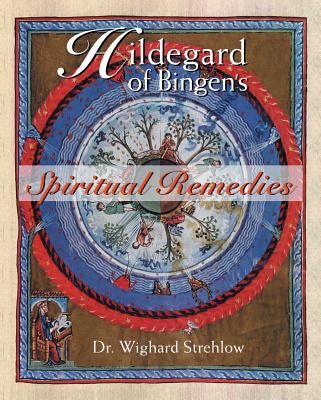 Hildegard of Bingen's Spiritual Remedies
Paperback

* Individual store prices may vary.
Description
Synthesizes the holistic wisdom of Hildegard of Bingen to offer the modern reader her spiritual and psychological healing principles.

• Takes a holistic view of psychological or spiritual illness and its physical repercussions.

• Shows how to incorporate healing words into thoughts in order to prevent negative energy.

• Companion volume to Hildegard of Bingen's Medicine, a collection of remedies for physical ailments (30,000 sold).

A 12th-century mystic, visionary, and healer, Hildegard of Bingen recognized what the holistic health movement has only recently restored to our consciousness: that full health can only be experienced in a state of spiritual balance. Psychological trauma, emotional distress, and other maladies of the soul often lead to illness and chronic diseases. Healing the body begins with the self-healing of the spirit.

Dr. Wighard Strehlow explains the natural methods used by Hildegard of Bingen to treat weaknesses of the soul--problems that are today treated by drugs such as Prozac. Based on his clinical work with this effective energetic medicine for more than 20 years, Dr. Strehlow gives readers a complete program for a lifestyle of "spiritual fitness." His practical suggestions are based on the integration of 35 spiritual forces of the human soul in order to "cure the soul within," which he synthesized from five of Hildegard's books on spiritual and psychological healing principles. He suggests that the recovery of Hildegard's insights into cultivating the health of body and spirit may even provide solutions to the challenges currently frustrating Western medical science.
Praise For Hildegard of Bingen's Spiritual Remedies…
"Dr. Strehlow stresses the importance of the unity of the body, mind, and soul. One's good health is the product of the right ordering of the relationship of the physical, emotional, mental, and spiritual dimensions of the self into an integrated whole."
— Bruce W. Hozeski, Ph.D., author Hildegard Von Bingen's Mystical Visions

"Strehlow not only tells of Hildegard's concept of health and well-being, he presents her insights, assessments, and counsel as he sees them applied to the context of contemporary life."
— Karl E. Lutze, Associate Professor Emeritus, Valparaiso University

"Gives insight on how combining healing words and herbal recipes can bring about healing for the mind, body & spirit."
— Creations Magazine, Aug-Sept 2003

"This book provides a wonderful reference and guide for anyone trying to maintain or restore balance in life for themselves or others."
— Susan Haber, The Quest, June 2004
Healing Arts Press, 9780892819850, 272pp.
Publication Date: July 10, 2002
About the Author
Dr. Wighard Strehlow is a noted scholar of Hildegard of Bingen who promotes her nutrition methods, medical treatments, and body-soul connection worldwide. Formerly a research chemist in the pharmaceutical industry, Dr. Strehlow directs and practices at the Hildegard Center in Allensbach on Lake Constance in southern Germany.