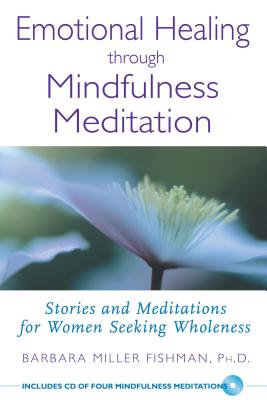 Emotional Healing through Mindfulness Meditation (Paperback)
Stories and Meditations for Women Seeking Wholeness
Inner Traditions, 9780892819980, 240pp.
Publication Date: November 1, 2002
* Individual store prices may vary.
Description
Explores how women can heal deep emotional pain through a new therapeutic approach that combines mindfulness meditation with psychotherapy.

• Includes 8 vivid stories of women overcoming great emotional pain and life obstacles through Mindfulness Psychotherapy.

• Each story is followed by a discussion and a relevant mindfulness meditation.

• Guided meditations are included on an accompanying 60-minute CD.

As a result of her years of working with women as a psychotherapist, Barbara Miller Fishman developed the discipline of Mindfulness Psychotherapy--a combination of mindfulness meditation and psychotherapy that, taken together, describe a path toward wholeness. Now she presents the integration of her life's work through the poignant stories of eight women--all faced with critical decisions and tough life circumstances--and how they used Mindfulness Psychotherapy to attain greater levels of peace and well-being.

The author offers a radical shift in a woman's relationship to life. Readers will discover the importance of naming a life problem, accepting the "is-ness" of it, developing a matter-of-fact curiosity, and exploring the mind/body reactions that we call emotional pain. The path continues as the reader creates an observing self and discovers the deep compassion that ultimately heals. Once learned, these six awareness practices can be used to face difficult situations, discover self-acceptance, and release the love needed to reside fully in one's whole self.
About the Author
Barbara Miller Fishman, Ph.D., is a therapist who offers workshops and seminars in Mindfulness Psychotherapy as it can be used for individuals and couples. She is the coauthor of Resonance: The New Chemistry of Love and lives in Bala Cynwyd, Pennsylvania.
Praise For Emotional Healing through Mindfulness Meditation: Stories and Meditations for Women Seeking Wholeness…
"The book you have before you . . . tells the stories of eight women who were able to transmute emotional pain into life energy through a hybrid of Western psychotherapy potentiated with Buddhist mindfulness exercises. By reading their stories you will get a tangible sense of what it means to literally escape into pain, as opposed to escaping from it--a truly remarkable notion."

"Barbara Fishman's blend of Eastern and Western wisdom is masterful."

"A practical and inspiring book. Barbara Fishman writes clearly and forcefully about how mindfulness practice assists in the process of psychological transformation through psychotherapy. Psychotherapists and their clients will benefit greatly from reading Fishman and following her well-informed advice."
or
Not Currently Available for Direct Purchase