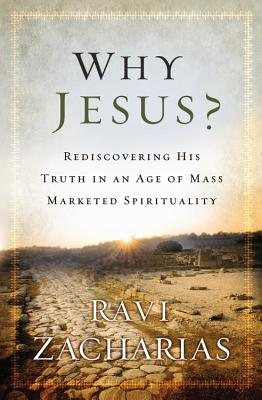 Why Jesus? (Paperback)
Rediscovering His Truth in an Age of Mass Marketed Spirituality
FaithWords, 9780892963058, 304pp.
Publication Date: November 27, 2012
Other Editions of This Title:
Digital Audiobook (1/24/2012)
Hardcover (1/25/2012)
CD-Audio (1/25/2012)
* Individual store prices may vary.
Description
We are facing one of the greatest crises in the history of religion. Truth is being cast aside in the name of tolerance and cultural relativism, all under the guise of a New Spirituality. Having become accustomed to abundance and the bliss of multiple choices, we now have a spiritual supermarket before us from which we may select whatever form of spirituality we desire. But tragically we often choose without knowing how to make a distinction between truth and falsehood. In this brilliant and compelling critique of the dangers of the New Spirituality, Christian apologist Ravi Zacharias applies some vigorous therapy to counter this assault on rational thought and shows why the uniqueness of Jesus matters.
About the Author
Ravi Zacharias is the founder and chairman of the board of Ravi Zacharias International Ministries, headquartered in Atlanta, Georgia, with additional offices in Canada, Hong Kong, India, Singapore, the United Kingdom, and the United Arab Emirates. Zacharias and his wife, Margie, have three grown children.
Praise For Why Jesus?: Rediscovering His Truth in an Age of Mass Marketed Spirituality…
"Ravi Zacharias gives a powerful defense of how Jesus Christ brings meaning and hope to an individual life."—Billy Graham

"Ravi takes a scholarly yet imaginative approach to apologetics."—Bruce Wilkinson, author of the #1 "New York Times" bestseller The Prayer of Jabez

"The works of Ravi Zacharias are a vital resource around our house."—Frank Peretti

"I am not aquainted with a brighter mind or a more relevant and devoted defender of the faith than Ravi Zacharias."—Charles Swindoll

"To every generation God sends a prophet. Ravi Zacharias is that prophet for this generation. You must hear him."—Josh McDowell

"Ravi Zacharias presents an outstanding defense of the Christian faith for our times."—R.C. Sproul