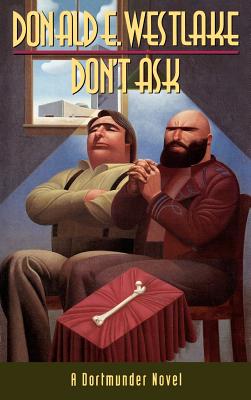 Don't Ask
Hardcover

* Individual store prices may vary.
Other Editions of This Title:
Mass Market Paperback (7/1/1994)
Description
Dortmunder has a job offer. He's been hired by third parties to pull off heists in the past, but never to lay his hands on anything this peculiar. Frankly, it's a bone. Not just any bone. A femur. Well, not just any femur, either. A femur which, 800 years ago, was part of a 16-year-old girl who, having been killed and eaten by her own family, was made a saint by the Church. The femur, her only relic, is all that's left. Now two small eastern European countries - Tsergovia and Votskojek - are fighting like dogs over...well, the bone. There's only room for one of them in the United Nations General Assembly, and the choice is in the hands of a powerful Catholic prelate. The country that tosses him the bone is sure to be in like Flynn. Dortmunder's first reaction to the Tsergovian ambassador's offer is to ask for more front money. His second is to round up his gang - light-fingered Kelp, master driver Murch, and man-mountain Tiny Bulcher - and case the Votskojekian mission, a former tramp steamer parked in the East River. The current repository of the bone, it will be the target of a heist carried out by land and sea, with the team displaying the finesse and split-second timing for which they're famous. It should only be that easy. Before the gang can say "Saint Ferghana's knee", they've got a major fiasco on their hands, one that will reach from the snow-capped mountains of Votskojek to a billionaire's art-crammed estate in New Hampshire. But it will show, once and for all, that when it comes to getting revenge, Dortmunder can cut to the bone.
Mysterious Press, 9780892964697
Publication Date: April 1, 1993