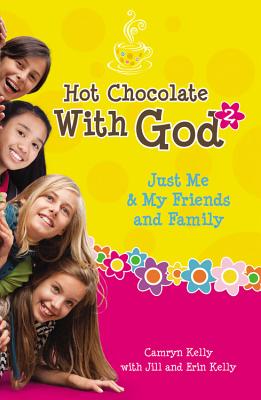 Hot Chocolate With God #2 (Paperback)
Just Me & My Friends and Family
FaithWords, 9780892968442, 160pp.
Publication Date: September 25, 2012
* Individual store prices may vary.
Description


In this follow-up to her highly praised Hot Chocolate with God, tween author Camryn Kelly, with a little assistance from mom Jill and older sister Erin, makes it fun for girls to think about the important stuff. How do they treat their friends-and how do they want their friends to treat them? What do their parents, siblings, and other family members mean to them? And, most important of all, how can they deepen their relationship with God? Through activities that include journaling, Q&As, word-search puzzles, design projects, interviews, and in-text links to the "Cam Clips" videos posted on the book series' companion website, HOT CHOCOLATE WITH GOD #2 offers young readers endless interactive enjoyment as they discover God's presence and purpose in their lives.
About the Author
Camryn Lynn Kelly is the youngest daughter of Jill Kelly and her husband, retired Buffalo Bills Quarterback and Pro Football Hall of Famer Jim Kelly. Camryn has a passion for writing and sharing her child-like faith in Jesus. She loves teaching imaginary students and anyone willing to attend her classes the exciting truths found in God's Word. While Camryn has loved books since she was just a toddler, her two-inch thick Bible Concordance is one of her favorites. As her relationship with Jesus flourishes, Camryn will continue to encourage others with the light of her faith that she shines boldly and brightly, and without apology.
Jill Kelly is the wife of Jim Kelly and mother of Camryn and Erin. She is the author of the New York Times bestseller Without a Word, the story of her son Hunter, who as an infant was diagnosed with a fatal disease. Without a Word was published by FaithWords in hardcover, September 2010.
Erin Marie Kelly is the oldest daughter to Jim and Jill Kelly. Currently in the 10th grade, she enjoys playing basketball and just like her father Erin is a great, competitive athlete. She is a very artistic and gifted writer who also creates very colorful and beautiful drawings in many of her journals. Although she does not know what she hopes to become in the future, Erin believes that God desires her to excel as a student and follower of Jesus-trusting in His guidance all the way.