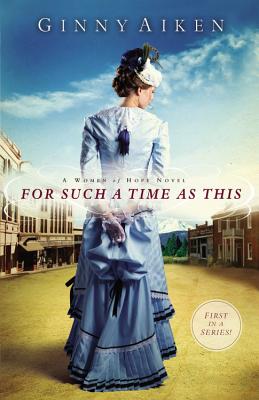 For Such a Time as This
A Women of Hope Novel
Paperback

* Individual store prices may vary.
Other Editions of This Title:
Paperback (4/1/2014)
Hardcover, Large Print (10/26/2012)
Description
A marriage of convenience between a widowed banker and the strong woman of faith he hires as a nanny blossoms into more in this historical romance set in small-town Oregon in 1879.
Drought has forced farmers around the small town of Bountiful in the Hope region of Oregon to mortgage their property. Then word comes of plans for a spur line to run through the area and join the railroad in nearby Milton. Folks with money see an opportunity to fill their coffers by buying farmland cheap then selling to the railroad for a profit. The Bank of Bountiful, owned by Eli Whitman, appears to be doing that, as well.
Widowed two years earlier, Eli, with a son and daughter to raise, sought a hard-working, educated Christian woman to care for them and his home. Olivia Moore filled the bill, and as soon as Eli recognized her as an excellent investment, he offered her first employment then a marriage of convenience.
While Olivia is an excellent choice, her large family gives Eli pause. He knows about the problems posed by in-laws, so he will do whatever it takes to avoid a repeat of his earlier experiences.When Papa tells Olivia the Moore family must move according to Eli's terms for the new railroad line, she fears for their safety, since they'll be homeless during winter. Where will they go? How will they survive?
It is up to Olivia to convince her husband to renege on his demands, though she swore before their marriage she would stay out of his business.
For Such a Time As This cleverly retells the biblical story of Esther against the backdrop of the American West, transporting readers with an engaging Christian story of duty, romance, family, and love.
Praise For For Such a Time as This: A Women of Hope Novel…
"[A]n engaging tale of duty, romance, family, and love....I'll be eager to see what character Ms. Aiken chooses next to feature in this exciting new series."
—Serena Chase, USAToday.com

"I loved this story. A sweet historical romance about a woman determined to help her family. Ginny Aiken is a fabulous writer who creates characters and a setting that come alive and transport you to another time and place. The suspense writer in me loved the thread of mystery she skillfully wove into the plot. This book should come with a warning: Before you start to read, make sure you don't have anything else to do for the next several hours because you WON'T want to put this book down. Eagerly awaiting the sequel!"—Lynette Eason

"[Ginny] Aiken in FOR SUCH A TIME AS THIS has created a well-crafted story with humor and characters you will care what happens to them."—Margaret Daley, author of Saving Hope in the Men of the Texas Rangers Series

"FOR SUCH A TIME AS THIS is the kind of book I love to read. A marriage of convenience where the reason doesn't feel contrived. Strong characters. An interesting plot that kept me turning pages. A touch of mystery. A lot of romance. A strong biblical theme skillfully woven into the story. I want to read more books by this author."—Lena Nelson Dooley author of Maggie's Journey, Mary's Blessing, and the Will Rogers Medallion Award winner, Love Finds You in Golden, New Mexico

"The Biblical story of Queen Esther meets the West in an engaging historical romance. A hurting hero you'll root for. A steadfast heroine with a big heart who will steal yours. A poignant story of overcoming past betrayals through faith, forgiveness, and finding true love."—Vickie McDonough award-winning author of the Pioneer Promises series and co-author of the Texas Trails series

"Once again Ginny Aiken writes with both humor and deep emotional angst. FOR SUCH A TIME AS THIS made me laugh, made me cry and made me want to keep reading until the very end. Olivia Moore is the reluctant Mary Poppins of Bountiful, Oregon and Eli Whitman is so adorable as the stoic widower/banker that I fell for him the first time he stepped onto the page. Another great book by one of my favorite writers. What a treat!"
—Lenora Worth author of Sweetheart Reunion

"Travel to the town of Bountiful with Christian author Ginny Aiken, where romance, intrigue and even a few childish pranks converge. FOR SUCH A TIME AS THIS offers readers all of the elements they love in one beautifully-written Esther-themed tale. Highly recommended!"—Janice Hanna Thompson, author of Love Finds You in Daisy, Oklahoma
FaithWords, 9780892968480, 384pp.
Publication Date: August 14, 2012
About the Author
Ginny Aiken, a former newspaper reporter, lives in Pennsylvania with her engineer husband. Born in Havana, Cuba, raised in Valencia and Caracas, Venezuela, she discovered books early and wrote her first novel at age fifteen while she trained with the Venezuelan Classical Ballet Company. She burned that tome when she turned a "mature" sixteen. Ginny has taught novel-writing seminars and workshops at Harrisburg(PA) Area Community College and Penn State University.
or
Not Currently Available for Direct Purchase