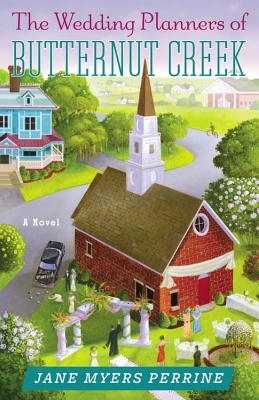 The Wedding Planners of Butternut Creek (Paperback)
Faithwords, 9780892969036, 384pp.
Publication Date: November 5, 2013
Description
The ladies of Butternut Creek Christian Church known as the Widows have always taken pride in their infallible matchmaking. They've succeeded again, and having found the perfect wife for Pastor Adam, they're ready to start planning the wedding. The one problem is that Adam has yet to propose. Clearly he still needs their help.
Meanwhile, Adam's sister Hannah, a doctor, has returned from work in refugee camps, exhausted from the horrors she's seen. Though physically weak, Hannah becomes animated when verbally sparring with Gabe Borden, the high school basketball coach. The Widows, however, see sparks of a different kind between them and are soon up to their matchmaking ways once again.
About the Author
A Missouri native, Jane Myers Perrine earned her B.A. from Kansas State University and her M.Ed. in Spanish from the University of Louisville. She was a finalist in the Regency category of the Golden Heart Awards, and her short pieces have appeared in the Houston Chronicle and Woman's World magazine. A high-school Spanish teacher as well as an ordained minister, she currently lives in Texas with her husband, who is the minister of a local Christian church.
Praise For The Wedding Planners of Butternut Creek…
"The third installment of the Butternut Creek series of inspirational romances allows a continued glimpse into the quirky, eccentric citizens of this small Texas town. Perrine offers a pleasant, meandering glimpse at love and courtship in Butternut Creek and a sweet, faith-based romance that combines humor and emotionalism.... An affable and entertaining romance for the inspirational audience."—Kirkus Reviews

"The third novel in Perrine's small-town series is an utter delight.... [A] heartfelt tale of faith, family, and what love really means. Readers will enjoy returning to Butternut Creek and catching up with their favorite characters as they search for love and contentment."
—RT Book Reviews

"A warm, witty, wonderful book. I loved it, and you will, too.—Susan Mallery, New York Times and USA Today bestselling author, on The Welcome Committee of Butternut Creek

Fans of Jan Karon will feel right at home in Butternut Creek.—San Francisco Book Review on The Matchmakers of Butternut Creek

"Heartwarming and hilarious, The Welcome Committee of Butternut Creek offers a touching, small-town view of the ties that bind."—Colleen Thompson, Award-winning author, on The Welcome Committee of Butternut Creek

"Perrine has penned a charming, heartwarming story with endearing characters and a lovely small town. I adored Butternut Creek and its residents."—Vicky Dreiling, author of How to Marry a Duke on The Welcome Committee of Butternut Creek

"Wow! Jane Myers Perrine has penned an amazing story with heart, hope, and humor. She created a setting with such unique and spunky characters that you can't help but fall in love with the people and the place. Grab a comfortable chair, and the book and get swept away to Butternut Creek, a quaint town where friendship, romance, and laughter are abundant. Perrine has a beautiful knack of storytelling and creating unforgettable characters that makes this series a must read."—Christie Craig, author of Hotter In Texas, the humorous romantic suspense series released by Grand Central/Forever, on The Welcome Committee of Butternut Creek


"With small-town charm and the perfect amount of humor, Perrine's second novel set in Butternut Creek is sweet and engaging."—Romantic Times on The Matchmakers of Butternut Creek

"I couldn't resist. The Widows' scheming had me grinning, and I loved how all the quirky, lovable characters got my mind off my worries."—Lorraine Sullivan, Associate Editor of First for Women on The Welcome Committee of Butternut Creek




"I did not want to put this book down. The characters and Jane Myers Perrine's storytelling gift captured my heart on page one and held on to the satisfying end. This is truly a special story."—Laurie Alice Eakes, award-winning author of A Flight of Fancy on The Matchmakers of Butternut Creek



Advertisement