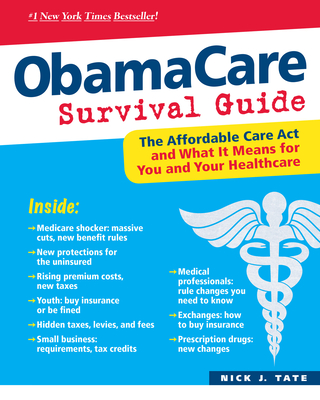 Obamacare Survival Guide
The Affordable Care ACT and What It Means for You and Your Healthcare
Paperback

* Individual store prices may vary.
Other Editions of This Title:
MP3 CD (7/23/2020)
Compact Disc (7/23/2020)
Description
We Read the Law So You Don't Have To The practical handbook to making good decisions in our changing healthcare marketplace. At over 2,700 pages - with an additional 20,000 pages of regulations -the ObamaCare law is longer than the Bible, with many more rules. Rules that will, in the words of the president, "fundamentally transform" healthcare in America. What no one explains is if the transformation will be a good one or a bad one. And that's why the ObamaCare Survival Guide is so important to you right now. Because what you don't know can hurt you. For example, can you answer these vital questions? - Do you know how the rollout of ObamaCare will affect your relationship with your doctor? - What is the laws impact on Medicare? - If your health insurance was cancelled, what options do you have now? Having trouble with the answers? You aren't alone. But if you care about your health and your family's health, you have three choices: - Read and study all 22,700 pages
- Hire your own personal ObamaCare lobbyist
- Buy a copy of the best-selling ObamaCare Survival Guide: 229 pages of vital information that will govern your healthcare today and tomorrow. The ObamaCare Survival Guide is a critical resource for every American whether you have health insurance or not.

Humanix Books, 9780893348625, 229pp.
Publication Date: October 2, 2012
About the Author
Nick J. Tate: Nick J. Tate, [Boca Raton, FL] award-winning journalist, editor, and author, has written extensively about health, business, technology, finance, and consumer affairs issues. His work has appeared in Newsmax Magazine, Miami Herald, South Florida Sun Sentinel, Atlanta Journal-Constitution, Boston Herald, Health Radar Newsletter, and other print and online publications. Harvard-educated, the author's background also includes teaching health/science journalism at Emory University in Atlanta. Tate recently authored the bestselling ObamaCare Survival Guide, which continues to be the foremost resource on the subject.