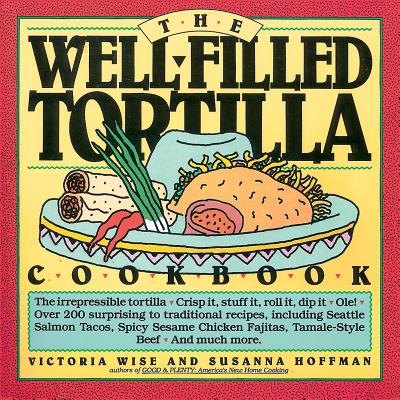 The Well-Filled Tortilla Cookbook (Paperback)
Workman Publishing Company, 9780894803642, 304pp.
Publication Date: January 9, 1990
* Individual store prices may vary.
Description
Like a blank canvas but much tastier, the ubiquitous corn or flour tortilla is the perfect vehicle for every sort of food. And taco-making-the art of filling tortillas with dozens of zesty and unexpected concoctions-turns the ordinary into the irrepressible.

Victoria Wise and Susanna Hoffman, both life-long tortilla aficionados, fill them with Fiesta Ground Beef, Chicken Mole, Spicy Shrimp Salad, Green Olive Cilantro Salsa Ancho Chili Sauce, Pear Lime Salsa, and much more.

Here are over 200 recipes for well-filled tortillas. Tacos from around the world-Portuguese-style Grilled Fish Taco, Oriental Stir-Fry Beef Taco, Thai-Style Shrimp Taco, add variety to the spice of such Cal-Mex favorites as Basic Beef Fajita Taco, Black Bean Taco, Chorizo Taco, Snapper Vera Cruz Taco, and Taco de Carnitas. Dessert tacos and tostada sundaes bring the most festive food into the most festive course.

Whether store-bought or home-pressed (the recipes are here, for corn and flour), a stack of tortillas means delicious, down-home, fun food for any occasion-to eat with your fingers in messy splendor. Selection of the Book-of-the-Month Club's The Good Cook Club. 250,000 copies in print.
About the Author
Susanna Hoffman was a co-owner, sous chef, and maître d' of Chez Panisse, where she met Victoria Wise. She is the author, most recently, of The Olive and the Caper, and lives in Telluride, Colorado.
Victoria Wise was the first chef at Chez Panisse and went on to become chef/owner of Berkeley's Pig-by-the-Tail and co-owner with Susanna Hoffman of Oakland's Good & Plenty Café. Her most recent Workman book was The Smith & Hawken Gardeners' Community Cookbook. She lives in Oakland, California.